I have spent a lot of time along Mardi Gras parade routes in New Orleans screaming that famous saying "Throw me something, mista!" For those of you who do not know, that slogan for the season pretty much means "hey y'all on that big parade float, throw me some cool beads and doubloons, and hey I could use a Moon Pie too!" Since I no longer live close enough to travel down every Mardi Gras, I am known to "throw" a Mardi Gras themed gathering here in Arkansas.
While many view Mardi Gras as a raucous celebration, which I can not deny happening the French Quarter where it is mostly tourists during Carnival, I equate Carnival as a time to celebrate good food, music, fun, taking pride in the past and the hope for the future.
So, here is The Park Wife's Guide to Planning your Mardi Gras Celebration when you can not get to New Orleans:
When: Carnival is a season; Mardi Gras is a day. The carnival season runs from January 6 (Epiphany, King's Day, or Twelfth Night) to midnight of Ash Wednesday, although the parties get bigger and more lively the closer you get to Mardi Gras proper. But remember, once Ash Wednesday comes, Lent begins, and hosting a Mardi Gras party would be inappropriate.
Food:
Gumbo is one of the most traditional of all Mardi Gras foods. Gumbo is easy to make and serves a lot of people, which is why it is my Mardi Gras celebration favorite. Other foods I often serve are jambalaya, red beans and rice, crawfish etouffee (thanks to my New Orleans native college roommate who is bringing me some tails from New Orleans next week), and beignets for dessert, yes, powdered sugar will be everywhere! While traditional New Orleans food (and most food we serve in our home on a daily basis) is spicy, it is better to keep the flavoring mild and offer a variety of hot sauces for those who want to add a kick to their meal. Never made a roux? Check out my post on Taste Arkansas and get going on your first roux, you can not have a good gumbo without a good roux.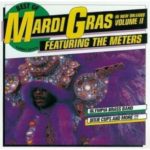 Music:
No, and I mean NO, Mardi Gras party is complete without music! Boogie down with the sounds of the Carnival Season and mix in some funky jazz and your own favorites for a complete playlist.
Oh my, for all my new Harry Connick Jr. followers (thanks again Harry for linking my blog on your Facebook page, swoon), watch Harry sing, dance, and play Mardi Gras in New Orleans.
Seriously….amazing musician and performer…..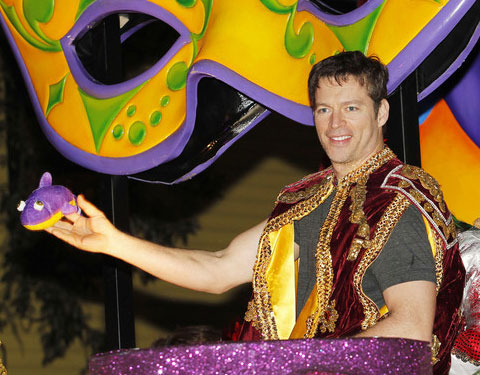 and New Orleans boy.
Decor: I love to decorate for Mardi Gras, thankfully, I have cool friends that can help me get my house into the Mardi Gras spirit. Check out Paul Michael Company's Mardi Gras section, then watch their Simple Mardi Gras Wreath How-to video filmed in their Lafayette  store.
Beads, beads, and more beads: Purple signifies justice, gold signifies power and green signifies faith. Beads are a must, and luckily most party supply stores carry them. They're also super easy to decorate with, so hang them anywhere and everywhere! As your friends arrive, give each a strand or two to wear around their neck to get them into the spirit.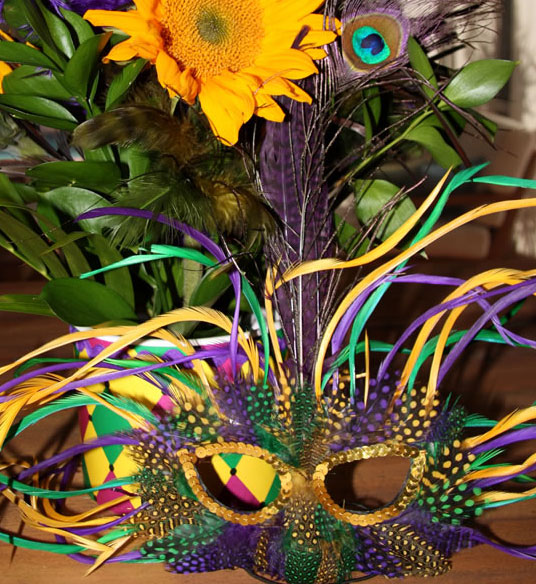 Costumes: They don't have to be elaborate, Halloween-style costumes; instead, party guests should be encouraged to wear things like crazy hats, feather boas or anything brightly colored, especially in purple, green or gold. Masks are my Mardi Gras favorite. Sometimes the boys and I make some to supplement our supply, those always become guests favorites.
Last, but not least, no Mardi Gras party is complete without a King Cake.
As part of our Christian faith, the coming of the wise men bearing gifts to the Christ Child is celebrated twelve days after Christmas. We refer to this as the Feast of the Epiphany, or Little Christmas on the Twelfth Night. This is a time of celebration, exchanging gifts and feasting. Today, the tradition continues as people all over the world gather for festive Twelfth Night celebrations. A popular custom was and still is the baking of a special cake in honor of the three kings, called "A King's Cake."
Inside every cake is a tiny baby and the person who receives the slice of cake with the baby is asked to continue the festivities by hosting the next King Cake party.
Originally, King Cakes were a simple ring of dough with a small amount of decoration. Today's King Cakes are much more festive. After the rich Danish dough is braided and baked, the "baby" is inserted. The top of the ring or oval cake is then covered with delicious sugar toppings in the traditional Mardi Gras colors of purple, green and gold. If you can't cook, you can buy them online.
We can't all go to New Orleans for Mardi Gras (or other towns that have parades), but, don't just sit back and wish you could be dancing with your umbrella in a street parade.
Make your own parade. ( I think we should apply this to all parts of our life)
Now, go gather your Krewe and….
Laissez les bon temps rouler!
The Park Wife
Flashback article about teaching my kids about Mardi Gras years ago.