Some of the things/possessions that I love the most are those that I have from my grandparents home. I love the shared history of them and the memories that make me smile when I see them in my home.
So, when Big Buckaroo's Uncle Tommy found out that Little Buckaroo was playing the fiddle, he offered for Little Buckaroo to have his Great, Great Grandfather's old fiddle.  Big Buckaroo, who was raised mostly in his Mamaw and Papaw's home, remembers the fiddle hanging on the wall in their house. There is even a picture of him holding his little sis Katie when she was a baby with the fiddle in the background. Katie had her first baby yesterday, yes, on 12/12/12, a sweet angel boy named Alex is here ready to be spoiled by us! Maybe he will pick up an instrument and join his cousins in a band. I am giving him his first drum set. You are welcome Katie, pay back!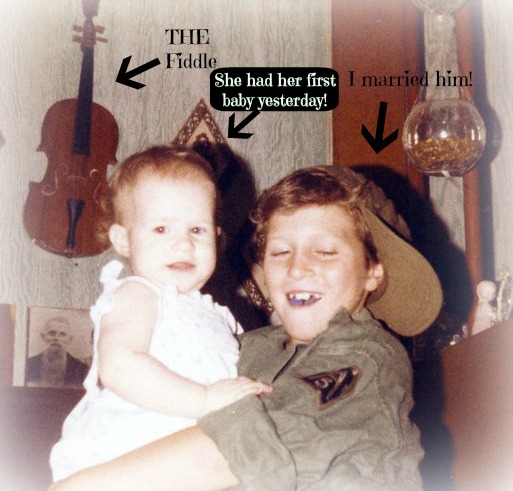 The fiddle arrived from Uncle Tommy in South Louisiana (yes, Cajun/Creole fiddle camp is on the calendar) and we took it to our friends at the music store to get a tune up. They told us that with a little work, it could be a great sounding fiddle. But, there was a catch, the work had to be done by Little Buckaroo with their supervision. Yes, we have some extraordinary people who show up and help enrich our kid's lives. His fiddle teacher Shay guided him, along with her husband Scott who is a luthier (a maker of stringed instruments). Yes, for free, they just love to pass on their love of music to the next generation.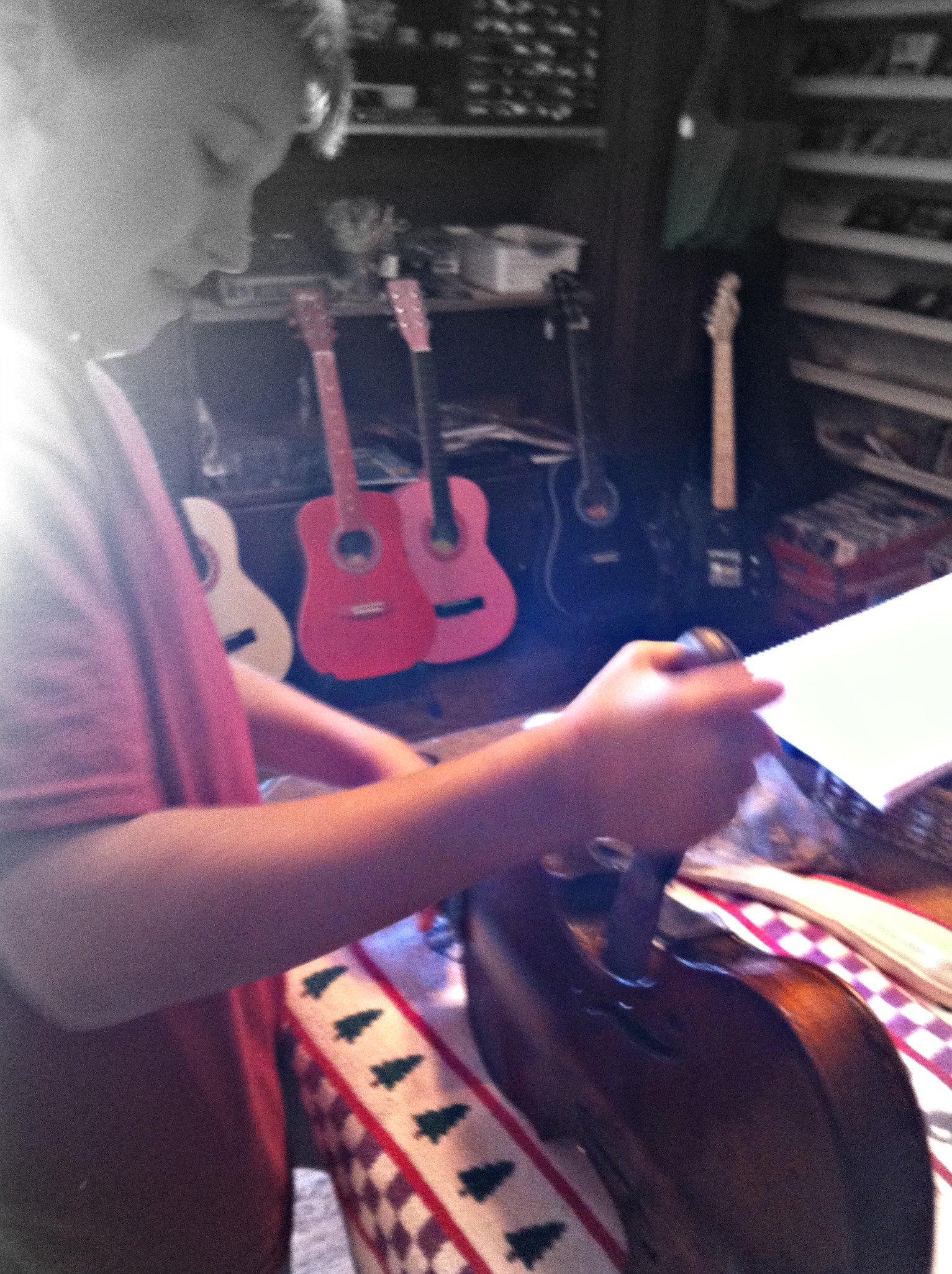 So, Little Buckaroo spent a few mornings at the music store working on regraduating  the family fiddle. He opened it up, yes, they made me leave him to do the work or I would have been having a "family treasure meltdown" about right now. That is a putty knife heated to melt the glue holding it together.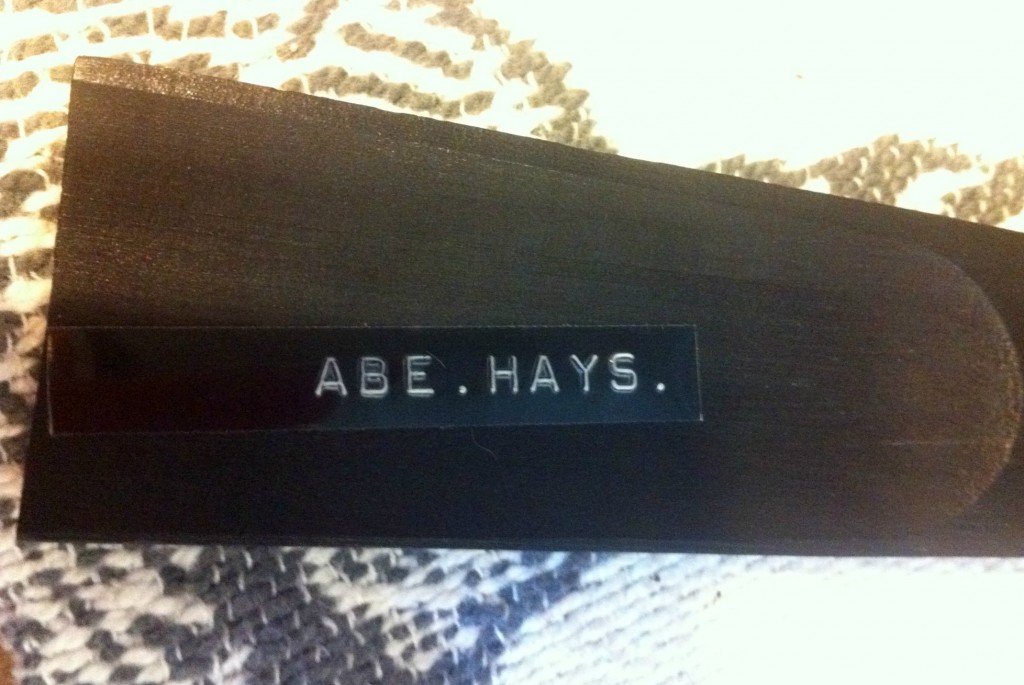 Under the fingerboard, Little Buckaroo found this! Yes, his Great, Great Grandfather's name. Since the fiddle is way older than that little punch type label, it is believed that it was worked on in the 60s or 70s.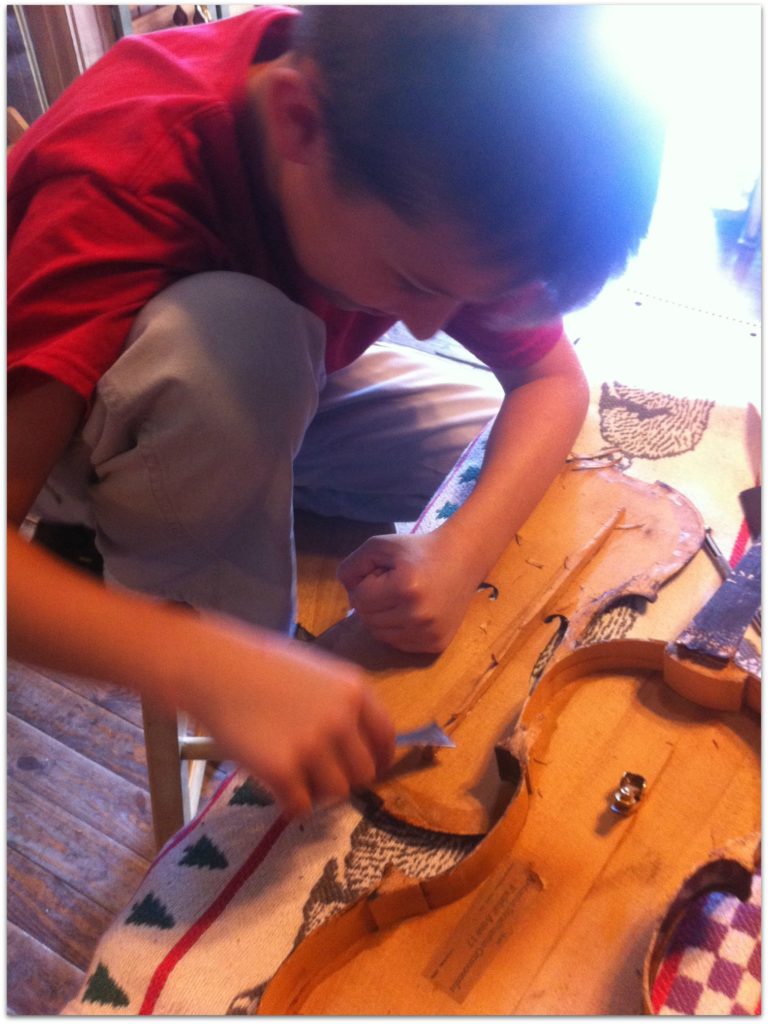 Then he started scraping the wood on the inside. This makes the sound better (that is what they tell me, hey, I am the mom who plays…the radio). Only two band-aids were needed during the regraduation of the fiddle.
His first fiddle was put in his hand less than a year ago, and Little Buckaroo loves playing music. He is the kid that has always hummed and sang while doing school work and playing. He told me one day when I told him he needed to be quiet and do his math that he was just trying to get some of his joy out.  And, that is true, he has an abundance of joy.
So, for Pops, Uncle Tommy, Aunt Tena, and Aunt Amy,who lovingly handed this very old, treasured family heirloom down to our Buckaroo, he wanted to play you a little diddy or two.
Blessed by the sound of our boys making music, (yes, o.k., it is loud and screechy at times and I am not sure I would say that is always a blessing, more like cats in a heated fight),
The Park Wife