My hand shook a little, I hesitated, and then signed the paperwork for Littlest Buckaroo to play pee wee tackle football.
Fear, a companion of mine, came for a long visit. I feared for his safety, feared that my baby would be scared out on the field with those big, tough 8, 9, and 10-year-olds that are twice his weight running after him, but most of all, I was worried that I'd cry and charge the field the first time he got knocked over (with my husband rushing to pull me back).
Which was exactly why I needed to let him do it.
The little boy that carries a football around with him all the time, learned to read on Tim Tebow's Through My Eyes, and spends Sunday afternoons spouting off NFL stats was getting his chance to play the game.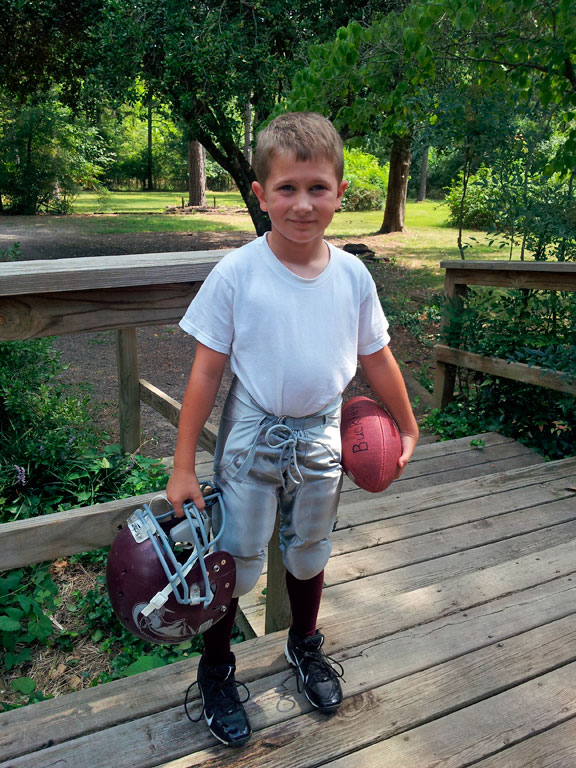 The first day of practice I hovered nervously, Big Buckaroo kept giving me "the look",  y'all know the one ladies, let him go and grow up, yea, that one. So, I parked my chair on the sidelines and watched helplessly as most of the boys were turned into little men before my very eyes. They worked those boys hard.  The coaches sounded a lot like my college soccer coach; they yelled, they growled, they pushed, they barked—they got results.  I have been amazed at the quality of coaching in the town of less than 1500, and the fact that these men who give so freely of their time to coach these boys, also truly care about them.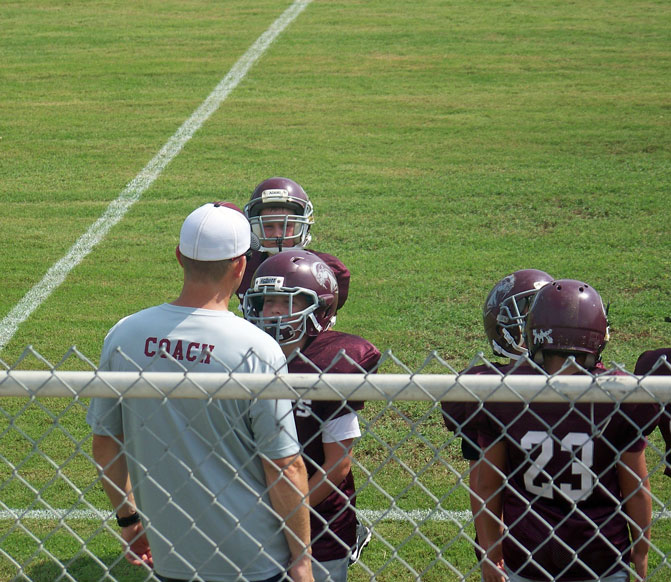 Then, the equipment came in. The first time he suited up in his bulging shoulder pads and helmet, a lump formed in my throat. It was precious and terrifying all at the same time.  Only identifiable by his practice jersey number,  all of them had little chicken legs coming out of those bulky football pants,  my little boy instantly transformed into a fun-size NFL running back. He took to the practice field with a determined trot and within moments the first crack of a tackle resonated around the sidelines, sending chills up my spine.
Littlest Buckaroo was in hog heaven. This is what he dreams about, trains for, and talks about all. the. time.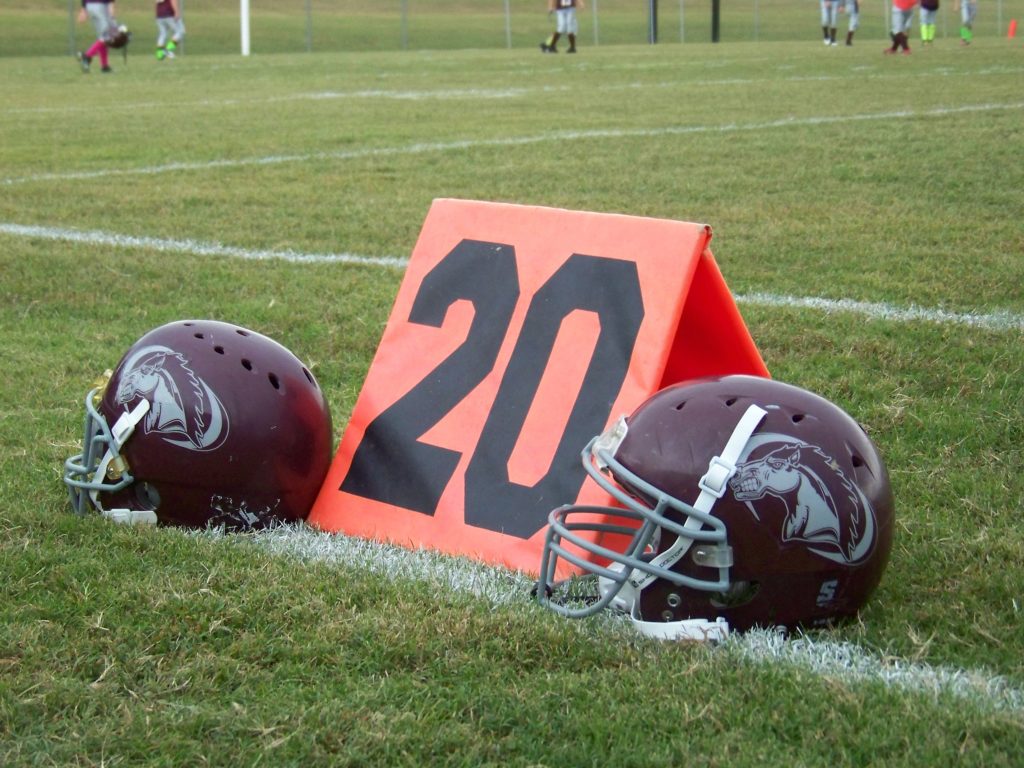 The first game day arrived, it was a "football jamboree" with all the teams in our region coming together to play some mini-games. We traveled the 1  1/2 hours to the host town and realized we had left Littlest Buckaroo's pads and helmet at home. Sigh… The head coach was prepared, it was evidently not his first time to deal with this type of thing. Thank goodness.
Parents filled the stands wearing their team colors, some with their sons' jersey number (I was not that fancy, I am learning the pee wee game day style), hot dogs were roasting at the concession stand and play-by-plays were announced over the loud-speaker amid music (very loud music, I am getting old) to rile up an already excited crowd. As the new gal in town and a homeschooler, I did not know any of the other moms, so I found our team color and just plopped down by them. Some of them immediately took me in, welcomed me, and yelled for our little guy as if he were their own. (Shout out to Buffy, Kelly, Ashley, Rhonda, Jennifer)
Our boys solemnly took the field, they were focused, chanting COLTS with puffed up chests as they went through their stretching ritual. There was anxiety, a little fear, and a lot of energy. The first game, Littlest Buckaroo went out and rocked it.
And then, it happened. Littlest Buckaroo was running the ball and got slammed. He was on the ground for way too long, I was panicked. He got up, ran off the field, one of the coaches helped get his helmet off and I saw it: fear, panic, and pain on my babies face.
This marks the day that Littlest Buckaroo had his first major life challenge. Things have always come easy to him, and now he had to conquer something he felt he couldn't, the thing I struggle with and did not want him to have to wrestle with …fear. He has had some good games and some not so good. One game he ran over 60 yards and then the next he ran out-of-bounds as soon as he was given the ball so he would not be hit. It has been a struggle, but through it all, the one thing that has prevailed is that he loves the game, he gives 100 % , and is actively working to overcome his fear.
He truly has become a warrior.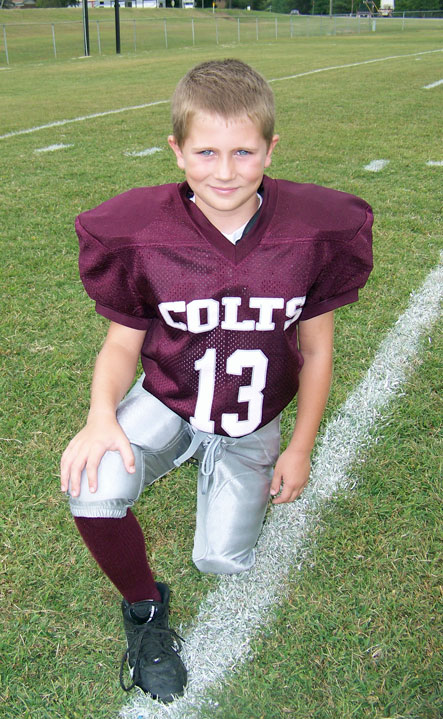 He has bonded with some of his teammates in a manner that is only achievable by going through the rigors of conditioning together, and he adores his coaches—the ones who have pushed, guided and supported him through this tough time. It has been an amazing first year experience for us.
It's not for every kid and it's not for every parent, but our son is a football player.
Go COLTS!
The Park Wife