I have a little social media company that is kind of like a talent agency for bloggers. It did not start out as a business though. It began in the most authentic and beautiful way, as a community. And, it works because our primary focus is not about business, but about the mission of it being a true community.

It all started on a brisk morning over five years ago when I quickly put up a site called Arkansas Women Bloggers. I had been blogging for several years, in those days if you asked people if they knew what a blog was they looked at you with a weird look and then after you told them, they just shook their heads and said, hmmmm…o.k. Mainstream it was not.
I was sitting in rural Arkansas, had just stood in line to get Ree to sign my cookbook the night before. I wanted to connect with other bloggers, writers, anyone that I did not have to wipe their noses or tie their shoes. Ba-da-boo…ba-da-bing, three minutes later, I was on Blogspot putting up a site with the oh-so-clever name, Arkansas Women Bloggers.  I really spent a lot of time deciding on the name (about 1 1/2 minutes). I was not very tech savvy, did not have a business plan nor branding plan. I just needed connections. I like flying by the seat of my pants.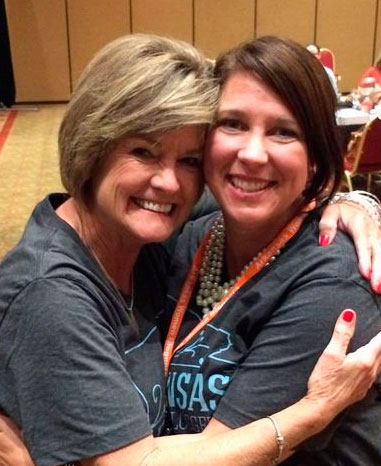 One of my dearest, most supportive friends in this journey, Debbie Arnold.
Over the next year, amazing women joined. We held our first conference. It was in the woods at a retreat type of place. We bonded. Shared our stories, and helped one another to tell those stories on our blogs.
The second weekend of September of this year, we gathered for our 4th annual Arkansas Women Bloggers University Conference in Rogers. And, yes, it was amazing.
I try to explain how amazing (I use that word a lot when I describe ARWB) this group is, how the women show up, I mean really show up with open hearts and minds, they are truly there to gather, grow, and connect.  In the four years of the conference, I have only had a couple of gals who did not get it.  And, one was not even from Arkansas (that had more to do with her agenda and personality than the conference, oh well). Everyone is welcomed, EVERYONE. Yes, we even allowed dudes this year.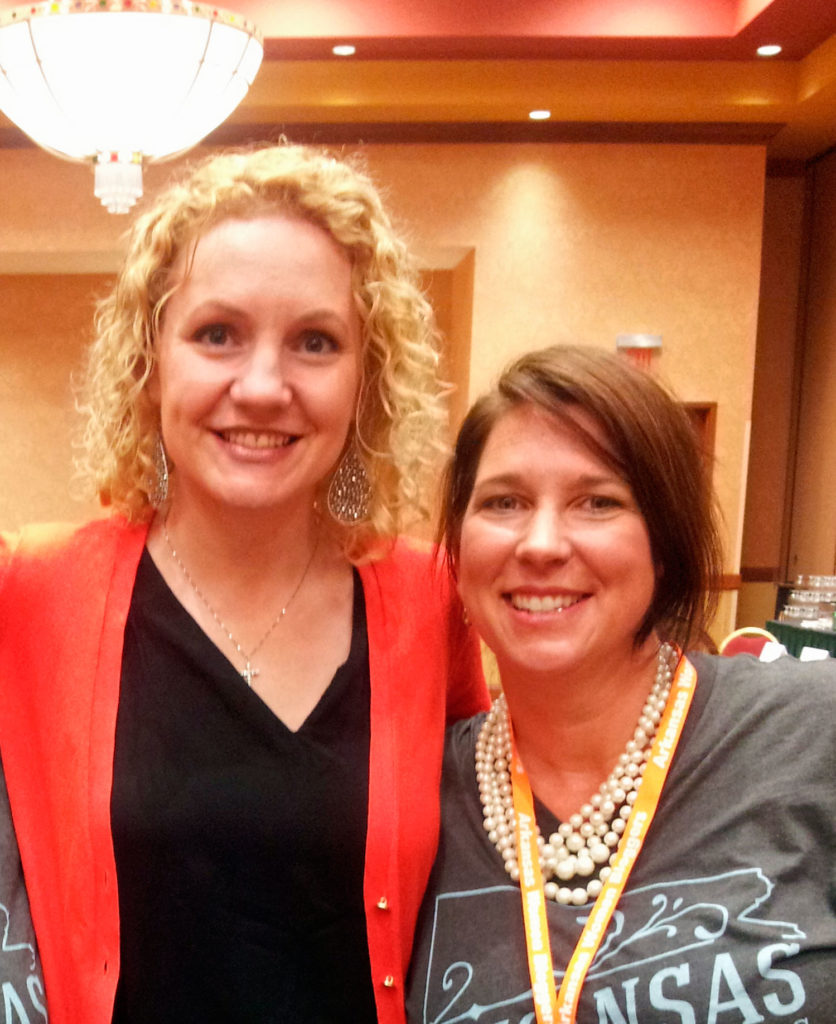 The blog world has brought many amazing women from the online world and turned them into my real life relationships. I have known @alli since we were blogging pals back in 2006, that is a long time ago in the blog world, ancient, like dinosaurs. Not that I am saying we are old Alli. Nor are we like T-Rex's. No, just that we have been in this space a long time. O.K. I better stop  now.  
So, I could gush on and on about the amazingness  (yes, I used tht word again) of this community, but instead, I will share with you excerpts from some of the attendees, my friends, re-cap posts:
"I'm a full fledged introvert so being around a lot of people can be very draining for me, but I found this event much less stressful than many others I've been to. The ARWB ladies were so open & supportive I didn't feel like I had to perform or pretend to be someone that I was not." ~Sarah Shotts
 "You gave me inspiration, you gave me courage, and you gave me acceptance. I can't tell you how much I needed all three."  ~Jessica Bauer
"From the moment I arrived in Rogers, Arkansas, despite having never met any of these 100 or so women (and a few men) in person, there was a spirit of support, of camaraderie, and even of accountability." ~ Jenny Mac of Mississippi Women Bloggers
"Who knew that this conference would be life-changing? I was afforded the opportunity to be part of the opening session. During this time I introduced myself and my blog. I also told the crowd what being a member of the Arkansas Women Bloggers group means to me. As I held back the tears, I thanked the women in the room for their resources, support and abundance of information. Arkansas Women Bloggers know a lot of stuff!"  Ramona Collins
"One of the best aspects of Arkansas Women Bloggers University is the people. Bloggers come from diverse backgrounds, cultures and belief systems. But there's just something about each other that we just "get." ~ Jamie Smith
For more posts from some of the most amazing women I know, hop over to the Arkansas Women Bloggers site.
Filled to the rim with love, kindness, social media amazingness,
The Park Wife