Y'all know I love me some Andy Griffith Show, the show that portrays a time where simplicity, kindness, and love for your neighbor was paramount.
We were watching a bit of an Andy Griffith marathon at our home the other day with some of our family members that stayed a few days extra after our family reunion. We have the whole series on DVD, but we watched one that I had not seen before, or the poignancy of it did not hit me at a time in my life that I needed to hear it. It knocked me over this time.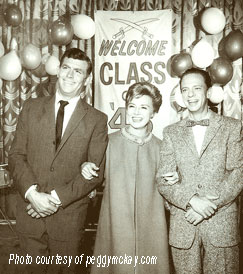 Andy and Barney were attending their high school reunion. Andy's high school sweetheart walks in and…lights dim… everyone turns to watch them… they meet on the dance floor…. and sparks fly (where was Helen?). Later, they go for a walk and start talking about old times. Andy is all giddy about rekindling their romance. He then starts to wonder aloud what happened to them all those years ago and asked if maybe she could stay in Mayberry a while. She says she couldn't, she had to get back to Chicago, she needed a place where she could expand and grow.
I was with her, I thought I was at least, I understood her reasoning, then she said there was no way she could live up to her potential in Mayberry, that life in Chicago was so different.  And, then Andy, oh Andy, says ~ well life is not that different there, it's about being happy, that's the main thing, isn't that what everyone is shooting for? Isn't that the prize of the game, to be happy?
That hit me hard.  I find myself striving, looking for that next project, that next thing to conquer when in reality, I am missing out on spending time enjoying the prizes I have already been given.
Then, I saw this. It is worth the time to watch it. The dad tried to impart to his son that being rich is not about how much you have, but about how much you can give. Oh, amen, amen.
Go grab a Kleenex,
The Park Wife