Pie is love.
Not Pi 3.14 which we celebrate today, our 5th grader is working with Pi in his math right now, and sweet mercy, we both would rather be eating pie.
Growing up, there was always a pie at my grandmother's house. Ira, who was like a second grandma to me, could make the most beautiful marainge that was even fluffier than my 80s bangs. When Ira made her pies, she always threw in a little of her magic love potion. That potion cured all that ailed you, from broken hearts to lost soccer games, sitting with the family eating a piece of Ira's pie just made the world a better place.
While I am not an expert on love (nor math), what I do know is that giving love and getting love is the best feeling in the world. So, when our family (shout out to Aunt Jo and Uncle Tommy) from south Louisiana arrived last night and brought us pie from Lea's Lunchroom in Lecompte, LA, that my friends was a pure, unadulterated delivery device for love.
Lea's Lunchroom's was established in 1928 and their coconut cream pie and apple pie, oh and their chocolate pie, you get the picture is the most perfect thing in the world…well, alright, except our babies and puppies and Dr. Pepper and Jesus's love, of course, He is LOVE and we love him the most. But, the coconut cream pie, wow!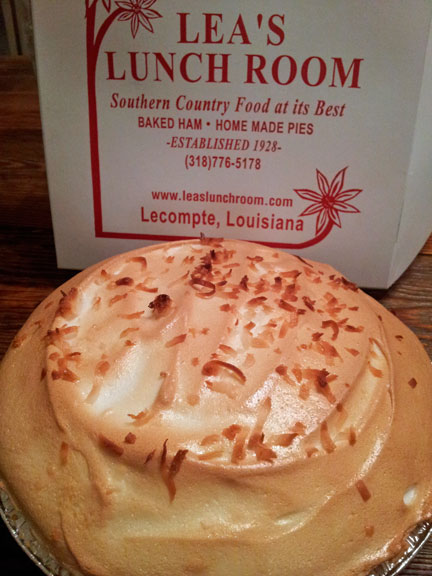 Seriously, that is beautiful. Food art.
Lea's homemade pies are listed in the Louisiana Hall of Fame and were selected as a favorite by Louisiana Life magazine readers. In March 2001, the Louisiana Legislature proclaimed Lecompte the Pie Capitol of Louisiana, and every governor since John M. Parker has eaten a meal at this restaurant. When your pies get you on the Johnny Carson show, you know they are good. It's also reported that the renowned outlaws Bonnie and Clyde had a meal at the original location in the early 1930's. Kapow!
Stopping at Lea's has become a  tradition for families and a destination attraction for generations of customers.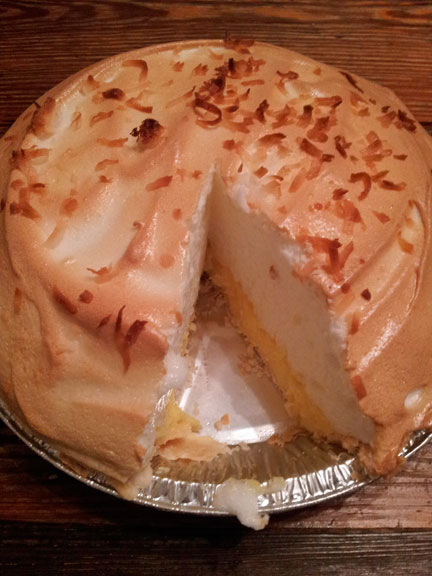 Throughout the years, numerous reporters and newsmen (even Johnny Carson from The Tonight Show in 1989) questioned Lea about the secret of his success. Lea would laugh, smile and then credit his love for people.
"I love people," said Lea Johnson. "If you love people, you're going to give them the best." That  is the magic potion Ira always baked in her pies and even though she is gone now, every time I get a taste of a delicious pie, I stop and remember how much she loved me. So, yes friends, pie is love.
If you are ever headed up Louisiana Route 13, tune into KVPI for  some Cajun music with their Cajun French speaking DJ, stop by Lea's for a piece of pie and feel the love of Louisianans and the way that they show it through their food.
Share the Lagniappe,
The Park Wife