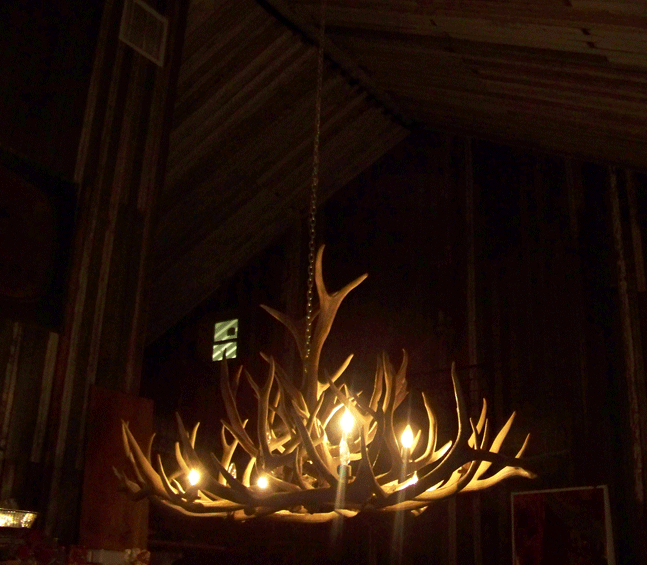 As I rang in the New Year, I, like  many people reflected on the past year. It was a great one, filled with family, friends old and new, and happiness. Those of you who know me, know that I just love people ~  to hear their stories and walk away a bit more full of inspiration, kindness and at times, truth.
So, when I was asked by the Paul Michael Company  to gather some of my bloggy gals (Arkansas Women Bloggers) for a Designed in the Delta event, I knew in my heart this was one that I needed to attend. I was needing a little piece of my soul filled like only the Delta can do.
My mom's side of the family is all from Indianola, MS, deep in the Mississippi Delta, and I have always loved trips there because they were filled with good food, family, and love.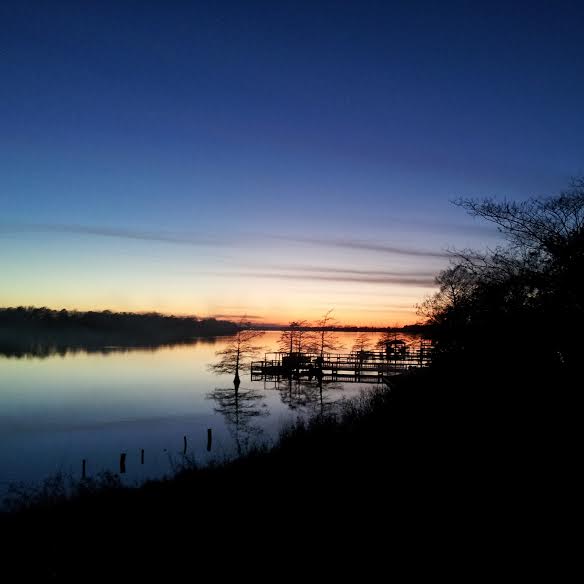 So, I met up with the other Arkansas Women Bloggers at Lake Chicot State Park to this view. I had never stayed at Lake Chicot (I know, bad Park Wife), and it was wonderful. I will be back to that park!
Soul filling began.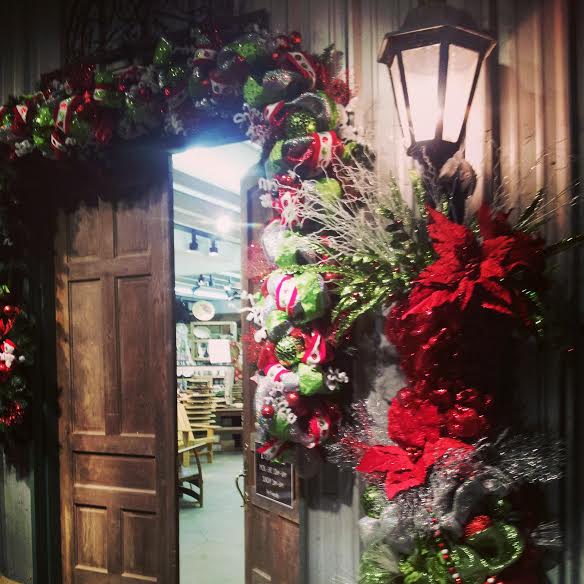 After a welcome reception at Paul's newly renovated office on Main Street in Lake Village (that contains a brick oven, uh huh) we were welcomed to the Paul Michael Company's Holiday Party.  They are headquartered quite literally, in a cotton field in Lake Village, Ark.  Seriously. Love.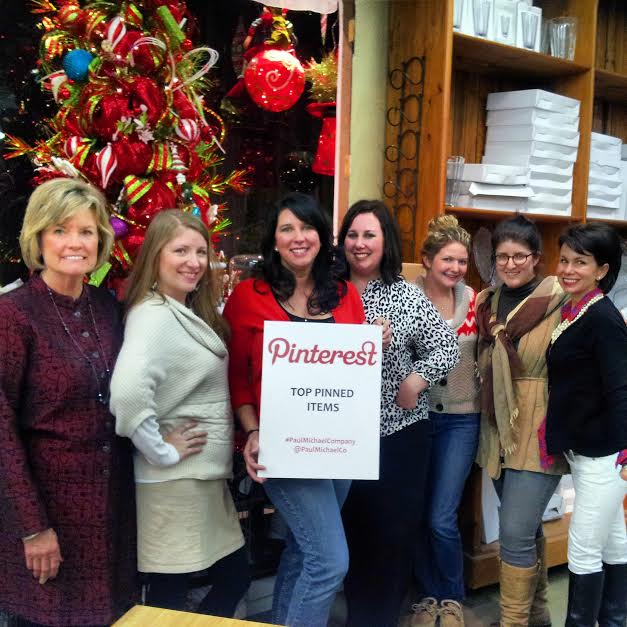 We had a blast visiting with the locals, eating, and shopping. The store is amazing and is worth taking a drive just to go there. Can I hear "GIRLS TRIP"!  They also have stores in West Monroe, LA, Lafayette, LA, and Canton, TX.
Here is the scoop: Paul has created something amazing. A business that he runs with his beautiful wife Debbie and children, continually strenghtening a family bond that is firmly rooted in looking around you and finding beauty in the most unlikely places and things. And sometimes, people.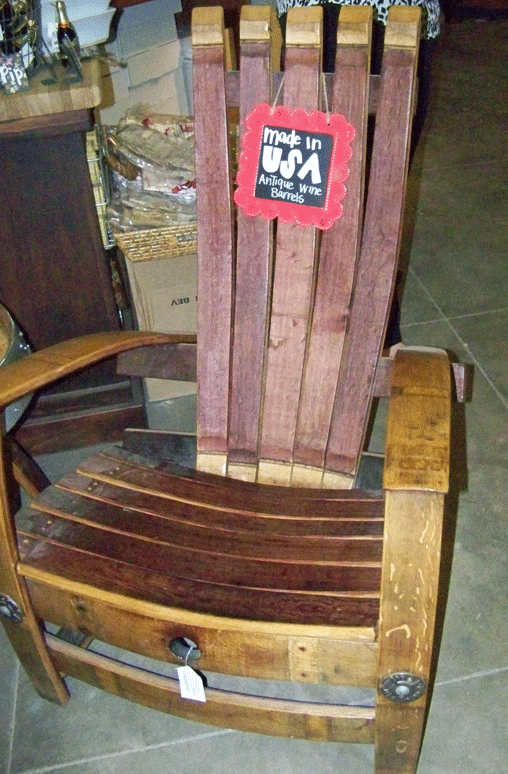 An example of what Paul does: a whiskey barrell repurposed into a chair.
The next day we went to their woodshop in Dermott, AR where Paul's son, Jake, showed us the lay of the land, where the beautiful pieces are made. There was some serious craftsmanship happening in there. At one point, Jake said "we are creating the antiques of the future". Oh mercy, swoon.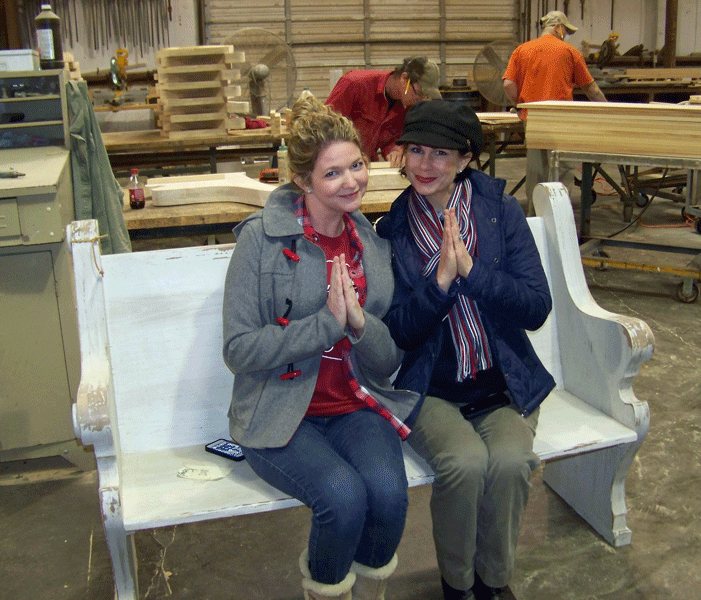 Ashley, who is Visual Merchandiser and Product Development Gal at Paul Michael Company (and an all-around amazing woman) and the gorgeous DeltaMoxie popped a squat on one of the beautiful benches in the workshop. So angelic, so…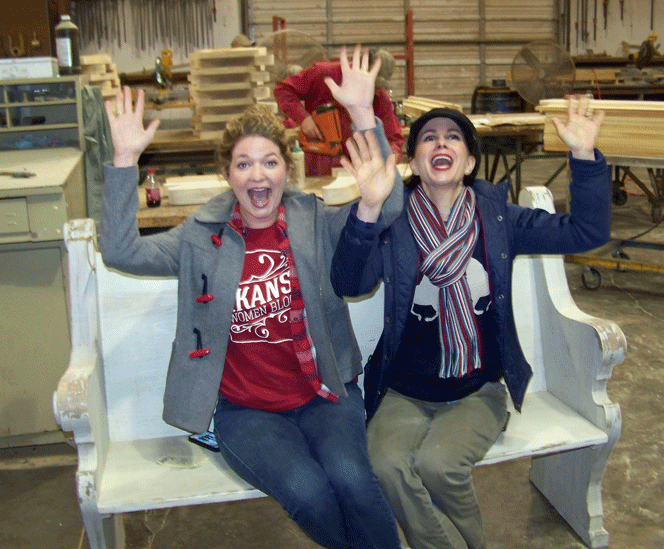 O.K., it got real up in there!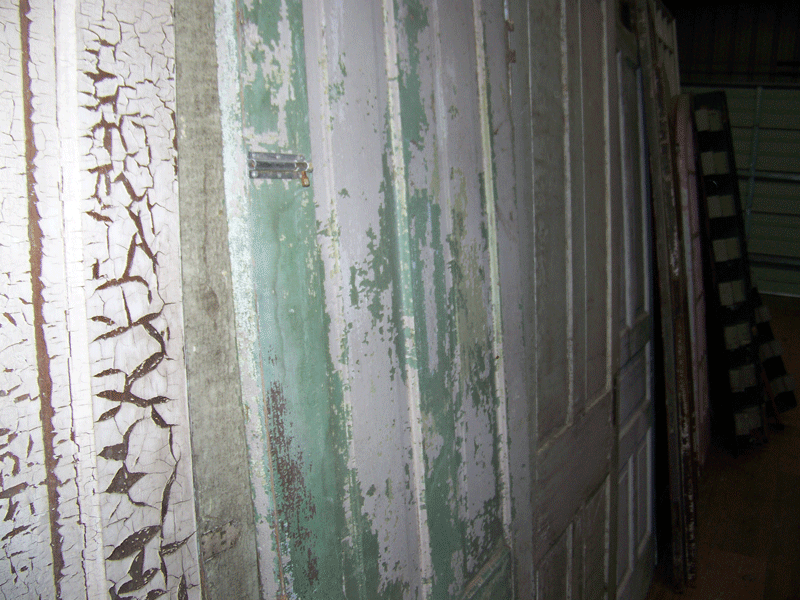 Doors. I love old doors. Paul, who is always on the lookout for treasures, went down to New Orleans and salvaged a bunch of doors after Katrina. When I see these, I think "who walked through these doors, what was their life like, and what will these door now become?"
Everything is 100% American made in Paul's workshop and nearly all of the items are constructed of architectural salvage and reclaimed wood that Paul has been collecting for years. I saw the most beautiful tables made from some wood he reclaimed from an old Chicago bank they were tearing down.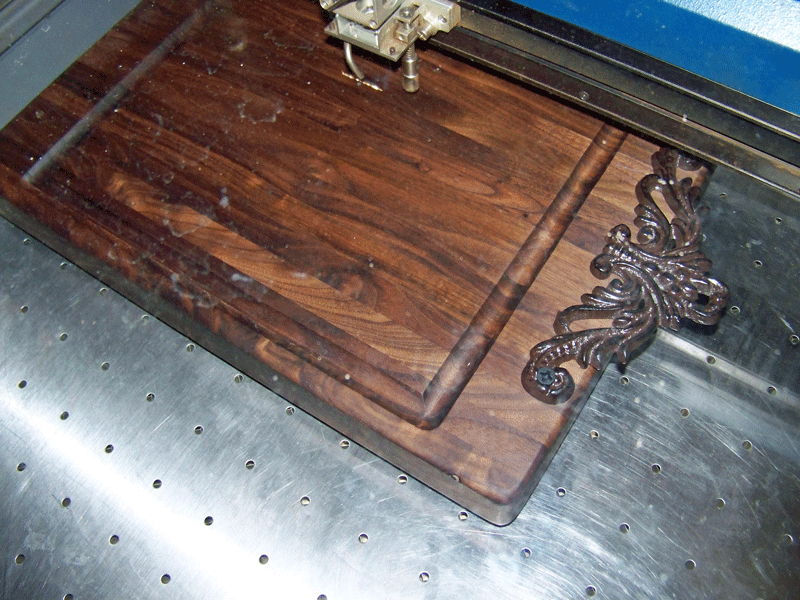 And, their cutting boards are amazing. I mean really, a board that you can take the meat off the grill, carry it to the table, cut on and serve on.  And, they have a trough around them so the juices do not run off. Genius.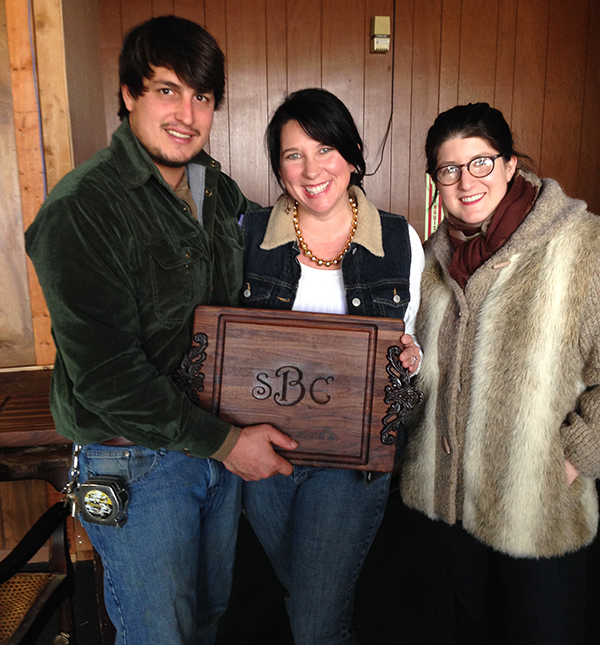 Here I am with Paul's son Jake and their beautiful, fun, and SMART daughter Elizabeth. Good people right there. Of course, I had to have mine monogrammed. If it is not nailed down, it has potential for monogramming in my world.
Paul and Debbie invited us to their hunting camp for dinner. They know how to show some true hospitality in Lake Village.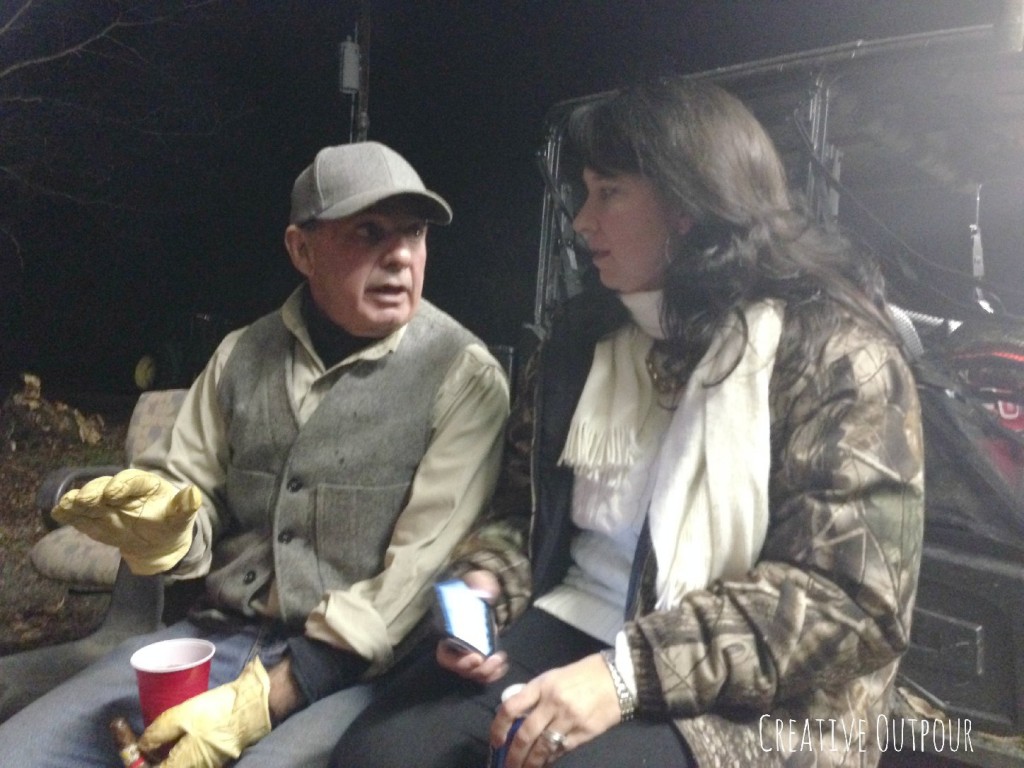 (borrowed photo from my friend Jacqueline at Creative Outpour)
Paul and I hanging out by the fire pit. He is giving me tips on how to better cook deer steak. Big Buckaroo was thankful for this lesson. I just might have been overcooking it.
Yes, I have my phone in my hand because I was tweeting with Paul Michael's dear friend Gerogia Pelligrini, the chef known as Girl Hunter. She and I are Bffs now. O.k. we will be after we meet back up at Paul's in the Spring.
We were served delicious food, great conversation, and many laughs. I have a feeling that table has many stories it could tell. Again, full of history steeped in love.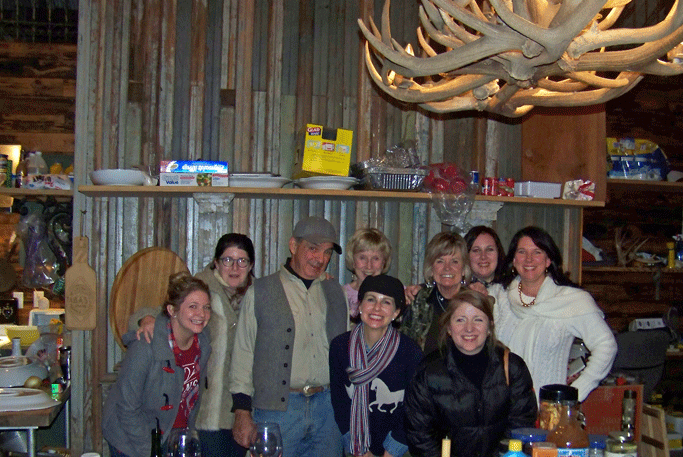 And, not only am I blessed to be part of the Paul Michael family now (they said they would adopt me), I was able to spend the weekend with some amazing women that I met right here in the blog world. I love me some Arkansas Women Blogger gals.
I will post later about me getting crafty with wreaths (I rocked it, surprisingly), and some of the treasures I brought home from my trip.
The Paul Michael Company is a company I can believe in, a place where I know I will get quality craftsmanship made by good people right here in Arkansas. You need to go check out their online store, fabulous stuff people. Follow them on Facebook, Pinterest (oh so beautiful), Instagram and the Twitter.
You got some deep roots and strong branches there Paul Michael.
The Park Wife