Christmas in Dixie is pure magic! It is oranges, walnuts (really, why? Not sure, but they made great bombs to throw at my brothers, they could chip a tooth) and pecans in our stockings, sitting as a family reading the Christmas Story, dressing up for holiday meals, riding around and looking at Christmas lights that any other time would be gaudy, but in December becomes a spectacular spectacle of festive beauty.
One thing we do well in the South during the holidays is get seriously decked out, be it our front porches, mantles, oh sweet mercy, people even put wreaths and reindeer ears on their cars, bless them.  Let's not even talk about Christmas sweaters, oh no, really, crazy Aunt Bobbie does have a stellar collection! She is on my husband's side. But seriously, as if we needed an excuse to fluff our world, we Southerners go all out at Christmas time.
Growing up, we lived next door to my great-grandparents and my grandparents, a thing so rare in this day and age where we leave the confines of our tribe after high school driving to our fancy colleges in search of that American Dream we were trained to seek. What I did not realize was that the true American Dream was right there on 45th Street (where I grew up, not to be confused with the Miracle that happened a few streets over) surrounded by family and friends. A place where everyone was welcome at our table and hospitality, charm, and style flowed from every strand of garland and boughs of holly that dressed our homes.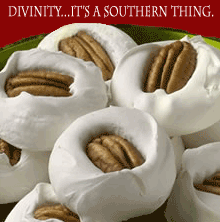 Oh the food! I loved sitting in the warm kitchen watching my grandmother and Ira (who worked for my family for 48 years and was another grandma to me) making delicious pans of "dressing" which is not something you put on salads, Divinity which has nothing to do with the Divine, and Ambrosia that does not reference the food of the Gods, but are all hallmarks of my Southern Christmas'. And, Karo syrup, I remember big bottles of Karo syrup.
We always had very formal holiday meals. As I look back, I do not remember my great-grandfather, a successful businessman, without a coat and tie on, ever. My Great- Grandmother and Grandmother were always dressed in the finest dresses, pearls, and had their hair set on the day before Christmas Eve (Little Buckaroo calls that "Christmas Adam"). Everything was planned to the "T", because mercy no, we would not want to have flat hair people, nor serve store-bought anything. Sweetie, it was Christmas.
On Christmas Eve, I would receive my Christmas dress usually made of velvet and taffeta (oh, I still dream in Gunni Sax) to be worn with my black patent shoes and of course, white stockings to top it off.  It did not matter that it was 94 degrees in Mississippi and I would roast like the holiday turkey, fa, la, la, la, la, I wore the dress for Christmas lunch at my grandparents.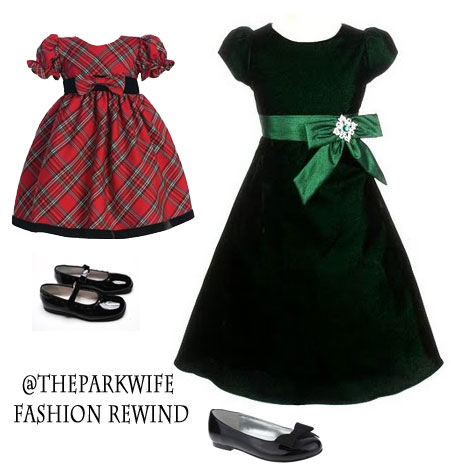 The table was dressed in our finest linens, many hand embroidered by my great- grandmother, starched until it did not need a fancy napkin fold, they would stand up on their own.  And, as crazy and hectic as it was, my family all showed up to sit together, even crazy Uncle Sonny who wore that powerful cologne, yea, I now know it is called Bourbon, and rejoice in the season…together.  There really was not any question about "what are you doing for Christmas?" It was Christmas Eve, we would be at the grandparents to open presents from them and then show up in our finery the next day for the all-out food spectacular. Every. Single. Year.
There was the tragedy of 1984, also known as the handlebar bike wreck extravaganza. One of my brothers, I have 5 of them so yes, prayers accepted, made the amateur Christmas deck the kids mistake of wearing his new Christmas shirt while riding on the handlebars of my other brothers new bike. Down a huge hill. Very fast. Let's just say that rip was not fixable before dinner. He wished he would have made it to 34th street and found that miracle before my grandmother, Bay, saw him.
I am blessed with amazing Christmas memories that are as deep as my seventh generation Mississippi roots. Where traditions were sacred in my world and my mother always went over and beyond to make it the most special Christmas ever for us. I will do my best to pass that on to our children.
Times have changed, we live on a state park far away from any family. And, even though I will be wearing my Lucchese boots (with a dress of course) and not patent Mary Jane's,  I will wear my strand of pearls and think back on my wonderful memories of new velvet dresses, formal dinners, and being surrounded by the warmth of family. I might even do a little twirl in the kitchen and ask Big Buckaroo how I look.
Angels we have heard on high (wearing Gunnie Sax, of course),
The Park Wife