I had a wonderful weekend in Rogers for Ree, The Pioneer Woman's, book signing. I am sure all of you reading know who Ree is, how amazing her books are, and want to go visit her ranch. Hold up sistah's, I get to go first. My friend Sheila from Eat2Gather and I are planning a meeting at the ranch. Ree does not know yet. I can tell you that Ree is just as amazing in real life as you imagine. We have met on several occasions and she is the real deal gals.
My friend Heather of Heather's Dish, who is one of my Arkansas Women Blogger gals and an amazing food blogger, and I loaded up on Friday for a little trip north. We stayed at the incredible Embassy Suites, Rogers. We had stayed there before when we were on our Rogers Getaway and yet again, the staff and accommodations were beyond excellent.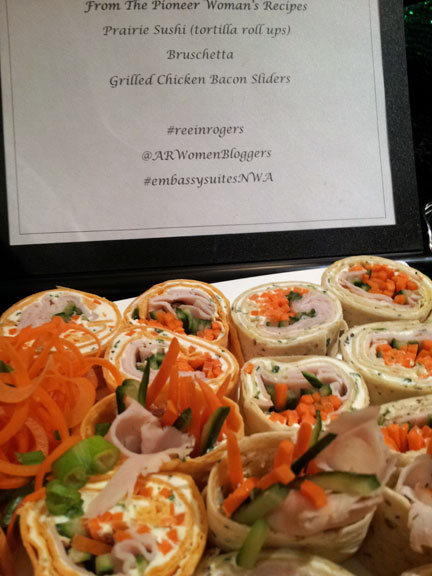 We planned an Arkansas Women Bloggers Meet-up on Friday night and about 25 bloggers showed up, we have good people in our tribe ladies. It is always so fun and refreshing to spend time with encouraging, kind  women in my blog world. When I first arrived,  I was told that Jovia of the Embassy Suites had done some special things for our Meet-up and lo' and behold, that sweet lady made some of Ree's appetizer  recipes from her new cookbook. Companies, take note, this is going above and beyond.
I wish I had more pictures of the evening with the blogger gals, but I was too busy stuffing my face with stuffed mushrooms and Prairie Sushi.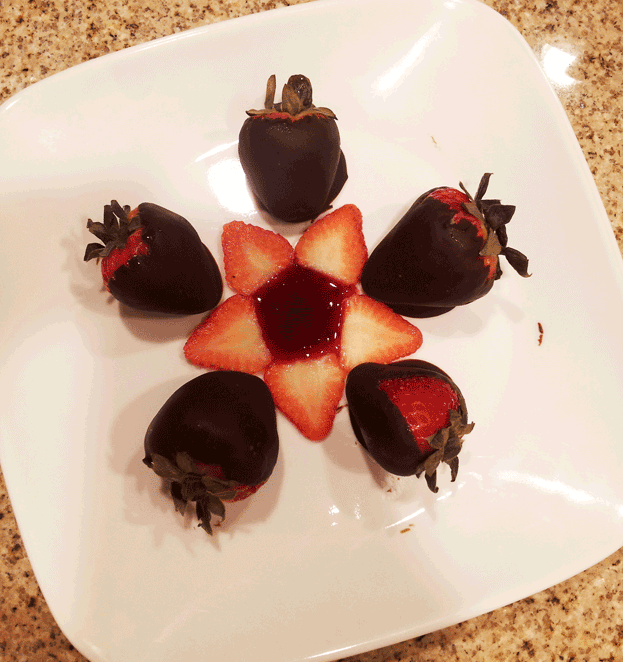 Then, for the love of all things decadent,  they had chocolate covered strawberries delivered to our room. Not to mention that I asked for the closest place to get a Dr. Pepper and one magically appeared within 5.8 seconds and they said "Enjoy Park Wife". Wow, seven years of blogging and look at the perks, they evidently knew my Dr. Pepper love language. To be fair, I saw them go above and beyond for all their customers, so no real blogger clout there.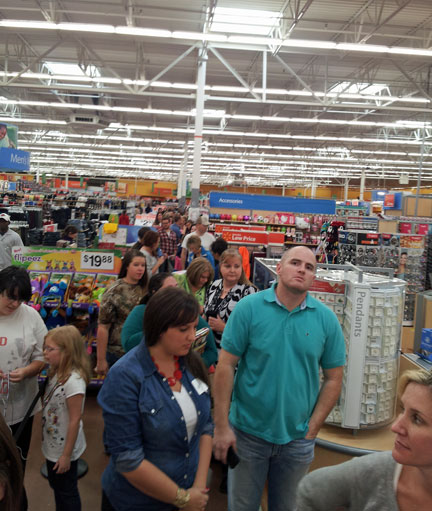 Then, it was time for lining up at the Wal-Marts. Wal-Mart had no idea how huge this was going to be, I could have told them. I hear they sold out at least three times and had to go to the other Wal-Marts in the area and get all they had. Benefit of living in the home of Wal-Mart.
I now know how Ladd's (Marlboro Man) cattle feel. I wonder if their hooves hurt like my tootsies were starting at hour 3? There was no turning back.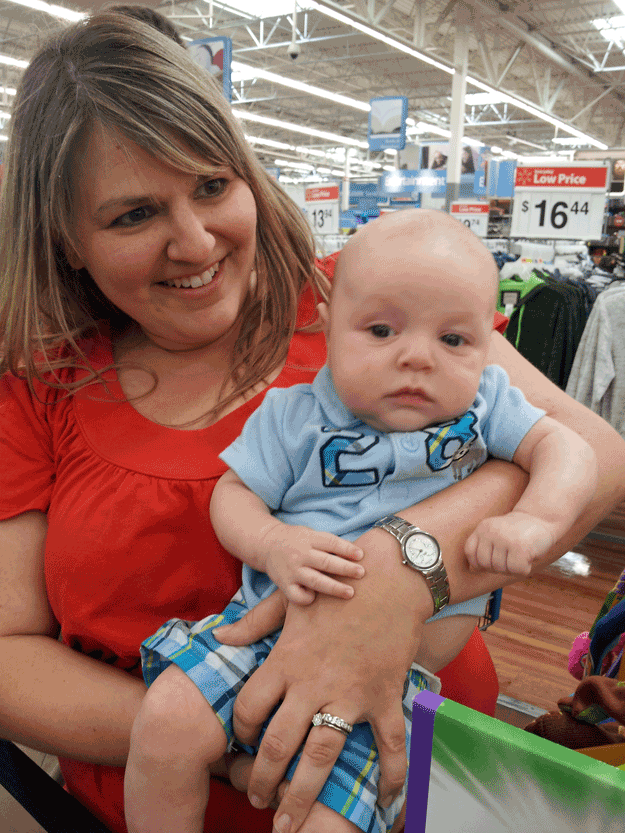 But, look at the perks. I met Max. Max smiled and giggled, then I tried to take his picture and he was like "good grief, these blogger ladies freak. me. out". His sweet mama and I talked. She used to blog and then due to some pregnancy complications, stopped. She told me how much she loved to write. She emailed me yesterday and I am happy to report, she was so excited about meeting Ree that she went home and blogged. I get it honey, after Ree's signing four years ago, I went home and started Arkansas Women Bloggers, now I have encouraging communities in Oklahoma, Texas, Kansas, Alabama, Mississippi and Missouri. Whew, yes, she is inspiring.
We came around the corner and Ree exclaimed, alright, maybe she just said, "there are my girls!"
She was amazingly kind as usual, asked about my life, family, and blog community. I told her that I had expanded from Arkansas into 6 other states including  Oklahoma!
She is the real deal people.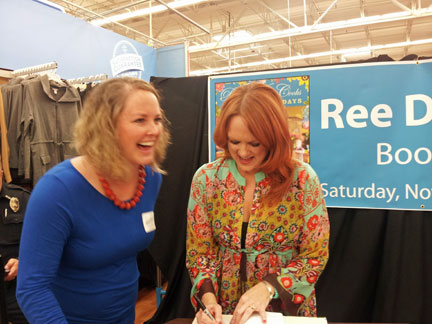 My friend Heather met her at a signing in Denver years ago, she said she froze up when she met her back then, so she redeemed herself at this signing and talked to Ree.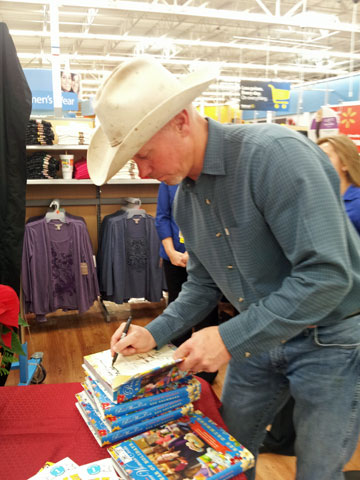 Ladd was signing  my books and he said he knew who I was (really?),  that Ree has mentioned me to him before, then he thanked me for always being supportive of his wife. Mercy me.  Yes, all I have to say about that is mercy me.
Ree popped over and told him that I was The Park Wife, one of her oldest blog friends. Ladd smirked with a twinkle in his eye and said "Really?" like we had not just been talking about it.  It was picture time and I told him I needed to wait for some other gals because I don't take pictures by myself with a man unless it is my husband (or my friend P. Allen Smith).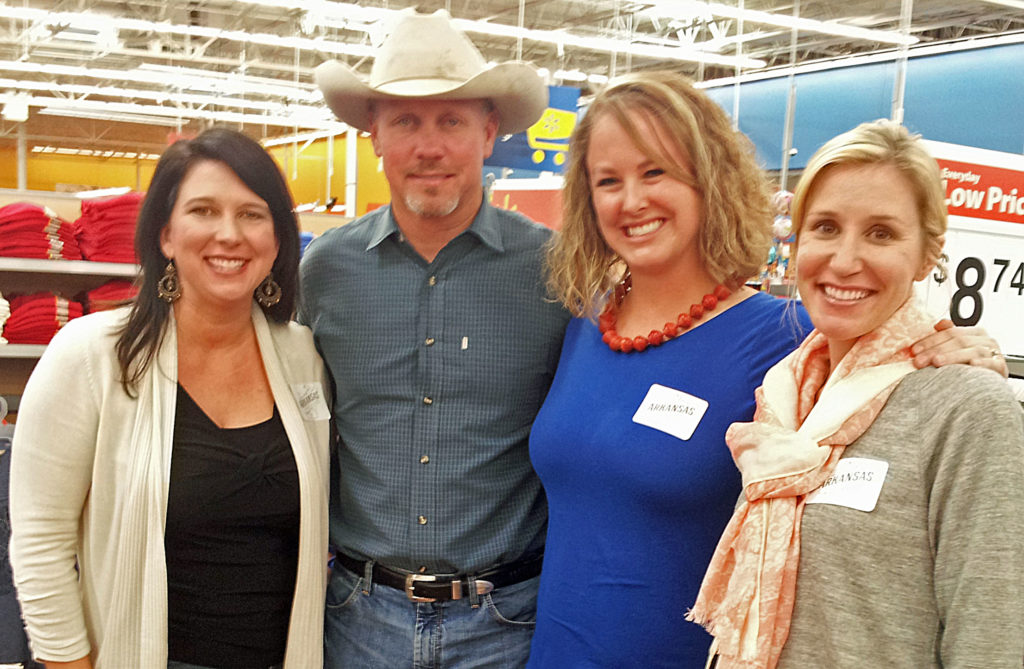 Oh, look at the sweet Jenny on the far right. You have to go read about their adoption journey. They have the cutest twin boys, have been working on bringing their angel girl home from the Congo, and yes, she is now pregnant. She is handling it all with such grace and beauty. Pray for her gals.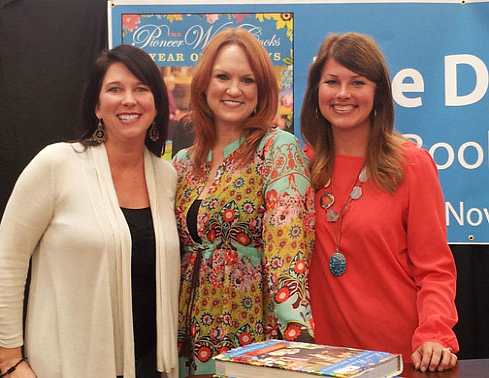 And, I finally met Kelly Stamps of Kelly's Korner. Yes, we have the sweet Sophie, aka BooMama, as a mutual friend, have both been blogging for a while and live in the same state. Our paths just have never crossed until we were walking into the Wal-Mart to get in line at the same time. I am constantly amazed at how God works. After 4 1/2 hours in line, we have bonded.
I am so excited to start trying her recipes! The book is beautiful. Remember, she sent me some signed copies a while back and you can win one here!
Loved seeing my blog inspiration and friend at the Wal-marts,
The Park Wife