Anyone that has ever hung out in my little place of the bloggy world at The Park Wife or any of my SEVEN (woooohoooo) state-focused blog communities, knows one of my all-time favorite bloggy gals in Ree, The Pioneer Woman.  Over the past seven years, she has been mentioned on my blog 863 times. Alright, maybe not that many, but close.  And, she is just as real, kind, and sincere in real life as she is on her blog and her Food Network Show.
Her first two cookbooks are used so much at my house that the binding of the first one has come loose, there is a mysterious sticky substance around the cinnamon rolls page (it can't be icing because I would have licked it off), and there is a lot of flour in the cracks from the various yumminess that was happening with pizza dough, biscuits, and pie crusts. Let's not even talk about the lasagna sauce on page 43. No idea how it got there.
I am drooling like Charlie yet again at her beautiful new cookbook called  The Pioneer Woman Cooks: A Year of Holidays: 140 Step-by-Step Recipes for Simple, Scrumptious Celebrations. It would be much easier and less dishes for me if she would just invite my family over for all the holidays, but the next best thing will be to try these recipes.  The holiday menus are amazing. The photographs are beautiful and I love how she has written a love letter to her children through the pictures and food she lovingly prepares for them.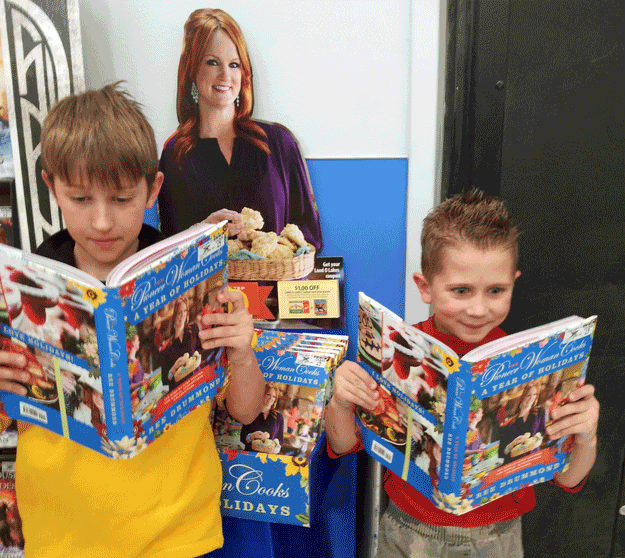 The Buckaroo's love some Ree. They talk about her like she is a long lost aunt and want to hang with her boys at the ranch, or worse case, she would make them some of her marshmallow pops. Evidently, ours did not turn out as pretty as hers.
I have mentioned about her book signing in Rogers, AR this weekend and that on Friday night since some of us are traveling from around the state, we are having a big Arkansas Women Blogger meet-up. I look forward to spending time with my blog peeps. Then, on Saturday, all the bloggy gals will meet to stand in line together to get to see REE!!!!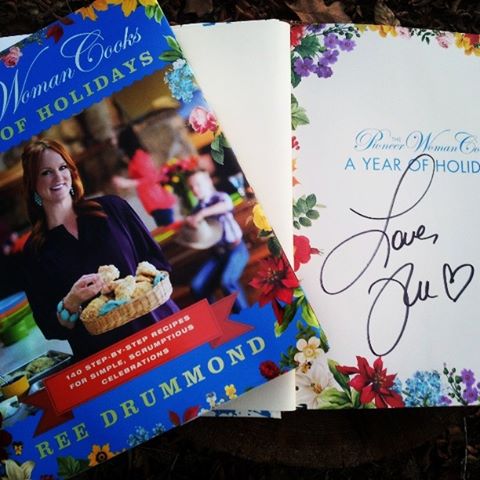 And here is even more great news –  Ree  is giving away 2 signed copies to my readers! Yeeeehaw!
GIVEAWAY:
2 winners will WIN one of Ree's new book, A Year of Holidays.
COMMENT to say you want to be entered. Make sure your email is linked to your comment.
Hey, what are you most looking forward to this holiday season?
I would love for you to:
Follow The Park Wife on Pinterest
Follow The Park Wife on Facebook
Follow The Park Wife on Twitter
Follow The Park Wife on Instagram
Then head back to this post and leave a comment if you did so I will know!
Good luck! Contest ends Friday, 11/22/13, at  10 AM CT. I'll announce the 2 winners over at THE PARK WIFE Facebook page!