The year was 2002, in a hotel room in Cody, Wyoming, I met Dennis and Barbara Rainey, the founders of FamilyLife Today. They had parked their cement truck at that hotel and were ready to work.
See, my hubby and I had done Bible-based pre-marital counseling, were in a covenant marriage, but sistah's learning to live with someone is HARD.  Tw0 years into our marriage, we were still learning things about each other, overcoming many hurts and disappointments that had been in our lives before we met. Now, let me say, we were fully committed to our marriage, it was just that at times, we drove each other crazy.
I had to spend a week in Jackson Hole, Wyoming for work (I know, life was so hard), so we decided to go a week early and celebrate our two-year anniversary. We snowmobiled, ate great food, visited the sites, except Yellowstone National Park because they close for one week once a year, did you know that? No, neither did we. Major disappointment for my park ranger hubby. Anyway, hubby was going to fly out of Cody, so we went there the last couple of days to say hi to Buffalo Bill, sightsee, and eat a  Bisonburger.
We were a bit snappy with each other by then. I would like to say it was because we were worn out from exploring and taking in all of that part of Wyoming had to offer, but this had been happening for a few months. On that last night, we decided to eat in and watch some t.v. since Big Buckaroo was flying out early the next day and I had to drive back to Jackson Hole. That is when God showed up big time. I remember having bickered with hubby and turned the t.v. on, we surfed through the channels and could not find anything, seriously, not even a cheesy Stallone shoot 'em up.
We landed on a channel with a man talking about marriage. Whoa Nellie! We stopped and listened to this man who was talking about exactly what was happening in our marriage. That was the night that Dennis and Barbara Rainey brought their cement trucks into our lives and helped firm up the foundation. We ordered their marriage CDs immediately.
The Rainey's live in Arkansas, as we do, but I had to go to Wyoming eleven years ago to find them. Since then, we have been blessed through several of their marriage books and then after having Little Buckaroo, their parenting books.
I have been blessed with a new friend that I met through the blogging world, Tracey Eyster. Tracey is the founder and Executive Director of MomLife Today and when desperate for content, she interviews me, haha. I was thrilled when she asked me if she could host an Arkansas Women Blogger Meet-up at FamilyLife in Little Rock. I was going to get to meet Barbara Rainey in real life!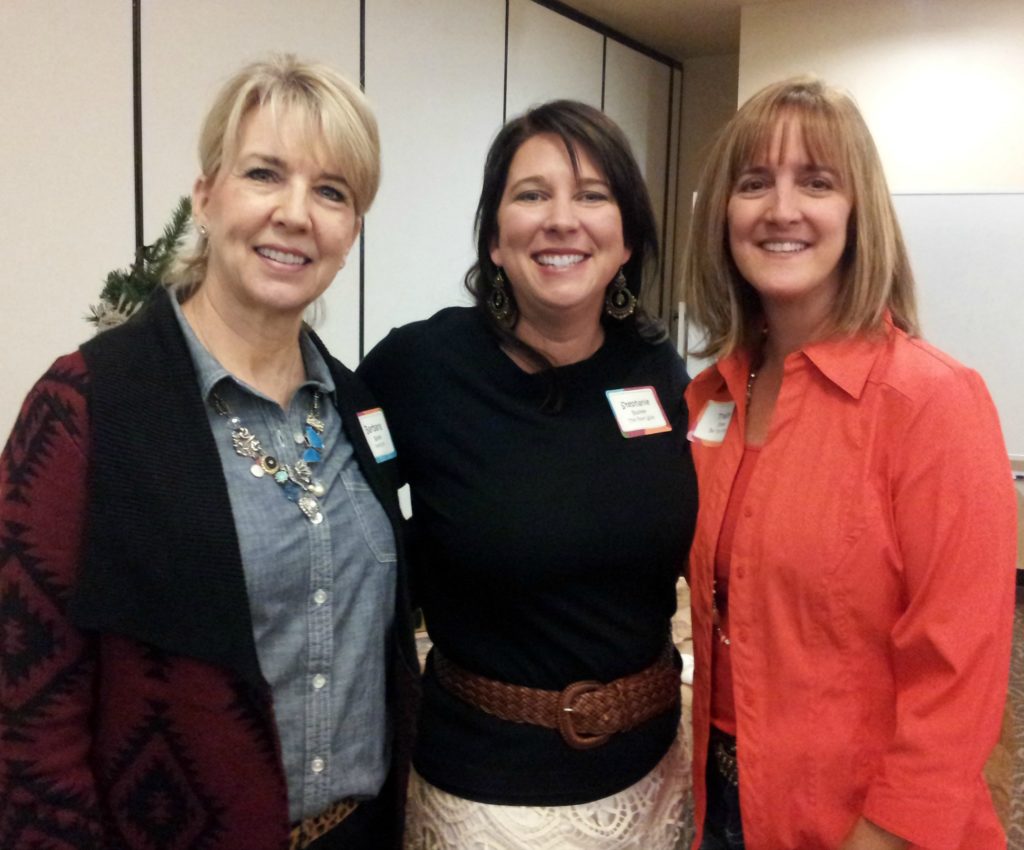 Barbara Rainey, The Park Wife, Tracy Eyster
It was a wonderful time of friendship and fellowship.  I will be sharing with you soon about Barbara's new focus, Ever Thine Home.
Go read my sweet friend Heather's post about what happened to she and I outside the FamilyLife building after the meet-up. It was a beautiful, punch in the gut I needed.
"Come to me, all you who are weary and burdened, and I will give you rest."
The Park Wife