Our park house is still under construction,  I hope to be in it by Christmas….of 2014. Let me start by saying, I would have not been a great interior designer, not one of my gifts. Picking flooring, paint colors, appliances, drawer pulls, tile…oh, it is a daunting task for me. I was begging for design advice from a new homeschool mom friend of mine at the kids new homeschool co-op (her name is Stephanie, like all the cool Arkansas gals) and she pointed out the strand that ran though all the pictures of kitchens she loved was that they were all organized, clean, and no dishes in the sink. AHA! She was right, she voiced my crazy house design problem, well, one of them.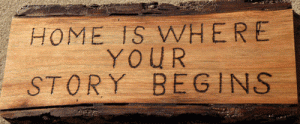 I look on Pinterest and see these beautiful homes with white furniture and think, "oh, how beautiful, I want my house to look like that". Then, reality hits. In my world, two boys would run in plop down on that white slip-covered couch with at least two rocks and four roly polies in their pockets, a stick in one hand and some type of creature in the other (turtle, beetle, dead locust, you never know). There is not enough bleach in Arkansas for me to be able to have that beautiful white living room.
So, I then I have to choose  flooring. No words. Where are all my decorator blog friends? We will have a meeting on the mountain soon, clear your calendars. My goal is just to have a comfortable place where our family can gather and the kids will one day have great memories of growing up on the mountain.  A place they will call home.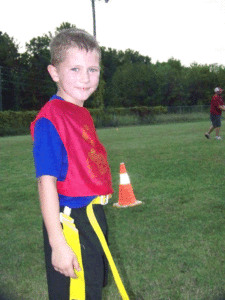 We finished up flag football last night. We got  involved it in the usual small town way. About a month ago, I was walking through a flea market, saw a gal I used to work with B.K. (before kids) and her son was with her. I left that conversation with the phone number of the guy who runs the flag football league in one of the small communities in our area. Even though they were in the midst of the season, they let the Buckaroos play. They had a blast.  And, so did I.  It brings back wonderful memories of my high school cheerleading days where Friday nights were spent at the football stadium, it was more than a game, it was an event. A place where a town comes together and rallies around its kids.  Faith, family, and football runs deep in the South, I love it. It is all football, all the time, at our house right now. Of course, Littlest Buckaroo has already chosen LSU for college and on to the Saints as a first round draft pick. He will be eight in December. God love him.
Speaking of football and the South, let me tell you about one of the most wonderful things we have watched in a long time, "The Book of Manning" (I bet you were you expecting Duck Dynasty, that is right up there of course).  The whole family was glued to the television as we watched the 90-minute documentary about football's first family. It  traced Archie Manning's path from Mississippi prep phenom to Ole Miss standout to patriarch of a tight-knit Southern family that features two No. 1 draft picks and three Lombardi trophies. We Mississippi folks LOVE the Manning boys.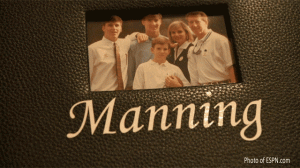 If you have not watched it, it will be replayed on ESPN I am sure. The footage from Archie's days at Ole Miss is simply CAPTIVATING. But, it really was not a documentary about a former NFL quarterback and his quarterback sons, instead, we all got something more extraordinary…..it was a film about fatherhood, how he gave his kids unconditional support and love. It gave us a glimpse into the lives of good people trying to live productive lives, raise men of character, overcoming obstacles, and through it all, loving one another. Oh, and do not think I do not know that the matriarch Olivia is the glue that holds this family together. Set your DVRs, it is wonderful.
Football and interior design, I can not say I live a boring life here on the park.
Oh, for the love of paint swatches,
The Park Wife