Yes, it is that time again. The days where I spend a lot of time rearranging sessions on my main planning document, lining up awesome speakers that will educate, encourage and inspire, work with some awesome sponsors, think about food choices and how I can get the most Arkansas grown food on the plates of nearly 100 of Arkansas's most influential, wonderful blogger gals. Yes, I am all into Arkansas Women Bloggers Unplugged Conference planning. This years conference will be held at Ferncliff Camp and Conference Center just outside of Little Rock September 6-8.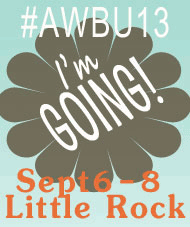 The speaker line-up, AMAZING. Just to drop a few names, Sophie Hudson, uh huh, the one and only Southernista BooMama, Tricia Goyer (seriously, 33 books published), Tracey Eyster (I need daily encouragement calls from her), Stephanie McCratic (my bomb-diggity blog  friend), Angie Albright (love this girls spirit) and Heidi Clark (who I connected with at #awbu 2011 and adore).
I can not wait for everyone to meet Heather Disarro, a new blog friend who recently moved to Arkansas. And "my state gals". Yes, many of the gals that run my other state-focused blog communities will be there. Miss Oklahoma Heather Davis will impart some wisdom upon us (we might need tiaras) and you guys are going to LOVE my Texas Jane of All Trades Taylor Bradford. Oh, and Joy from Alabama, she makes my heart smile. I think we might even have  a little Kansas blog love there.
Word of warning, I am letting in a few guys, only for a short period, then we kick them out (we might feed them). Logan Lovelace (@melodicbread, but known to us as #arkiefella) will talk about moving from blogger to WordPress, he is all techie like that, we also have a lawyer who is coming  to talk FTC regs, Copywrite laws, etc (for the love of all things bloggy, place the word "AD:" before a Tweet if you received a product and are having a giveaway").  And more, oh yes, even more.
Planning: Well, last year I learned a valuable lesson….DELEGATE. So, this year I have called in some bloggity friends that will be attending to help out. What amazing women I surround myself with.
Foodie Friday: Debbie Arnold has taken it and ran with it. She will be announcing all the fabulousness of it soon on the Arkansas Women Bloggers site.
I have so much more up my sleeves, you will not want to miss this years conference. It could be blog life-changing as it has for so many in the past, it can be the weekend away you needed to recharge your blog batteries, it could be the place where you meet your new best friend.
Go register, there are only a certain number of tickets available and we are at about 70% sold.
I have so much more up my sleeves, you will NOT want to miss this years conference.
Going to work on the fabulousness! Let me know if you have any questions,
The Park Wife