Littlest Buckaroo has decided that he is 50/50 on his future career choice these days, he has been struggling with it, but I told him he has a while to choose, he is 7.
Force Recon Marine or NFL player?
These days you do not see him without a football in his hand. He wants to throw and catch all day.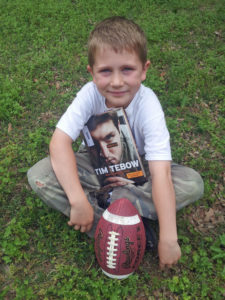 While at the library the other day he wanted football books, so we went to that section and found some good ones. In the past few months, his reading has really taken off  so I love finding books about things he is interested in to keep the momentum going.  He asked if there is a book with Tim Tebow in it.  Yes, he is now reading "Through my Eyes".
He was introduced to the name Tim Tebow earlier this year as our state was debating HB1789, what we call the Tim Tebow Act. YEA, it passed. We take homeschooling year by year, but if we still are when he is in high school, I am thankful he will have the option to play. This week, he can not decide if he wants to play at the Naval  Academy or LSU. I am good with either.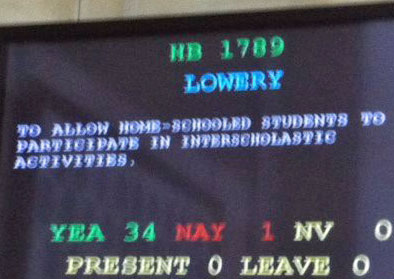 There has been much in the media about Tebow's successes and failures, he has become part of the culture wars.
Here is what I think….Tebow  is the real deal. His faith is real, it is a part of him that doesn't get sidelined when he steps on the football field. His love for God isn't an add on.
His greatest strength is not his throwing arm, but his love. He truly loves his family and is an encourager to all;  his fans, sick kids that benefit from his charity, and his teammates, even when they are stabbing him in the back. Oh, he is even nice about the ESPN commentators who have eye rolling down to an art when his name comes up.
He walks humbly and with integrity. Isn't that the kind of boy we want to raise, ummm. YES!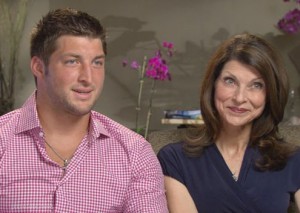 Seriously, trying to find an appropriate (meaning with a shirt on) picture of Tebow is hard. So, one with his mom, precious!
We are in a time that it is hard for kids to find real sports heroes to look up to, so, I am good with Littleset Buckaroo wanting to be like Tim Tebow when he grows up. I might even buy him a poster to put up beside the Force Recon Marine one in his room.
Gives us all hope,
The Park Wife