Three years ago, I was working with the extraordinary Food Writer Kim Severson (now Atlanta Bureau Chief) of the New York Times on an article about watermelons. I know, sounds crazy, but those are the kind of things that I get myself into as the blogger gal, The Park Wife. Littlest Buckaroo's picture was on the front of the food section with a 100 pound watermelon and she mentioned me in her article,  I was over the moon.
Kim and I spent the day together and I showed her a great time in Southwest Arkansas, which is where we lived at the time. She told me she was also in Arkansas doing a story on P. Allen Smith. Yes, that was her main story, mine just added a little sweetness to the trip. She told me all about meeting Allen and his beautiful Moss Mountain Farm. I was enamored with her story and this man, who like myself takes an enormous amount of pride in his Southern roots and wants to help people to live better.
FINALLY, I get to meet Allen! Nineteen Arkansas bloggers, the majority Arkansas Women Bloggers members (woohoo), have been invited to the second annual Bean2Blog event May 21 at  Moss Mountain Farm. Sponsored by the Arkansas Soybean Promotion Board, we will attend soybean workshops where we will learn all about the Miracle Bean and tour every corner of the farm. I am super excited about meeting Allen, his chickens and seeing the beautiful sleeping porch and his kitchen in person. It will be a great day of fun with Allen, soybean farmers, and some pretty fabulous fellow bloggers.
So, guess what? You could join us for a day at the farm. Follow the directions below to enter and when you Facebook and Tweet to enter on the Soybean Promotion page, I would love for you to add the @ARWOMENBLOGGERS tag if you are an Arkansas blogger. They are just inviting Arkansas bloggers to this event, but if you are part of one of my other state groups, tag your state (@okwomenbloggers, @txwomenbloggers, @kswomwnbloggers) and get the word out to your Arkansas followers.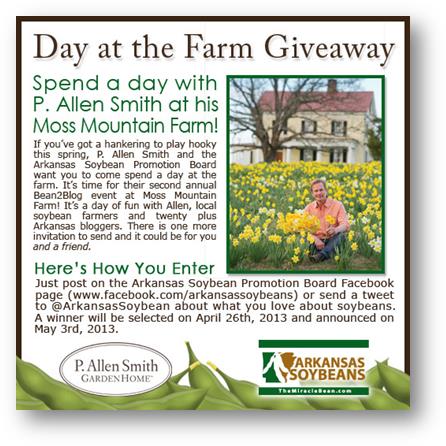 Best of luck, I hope to see you at the farm!
The Park Wife