Scott Stratten kicking off Blissdom 2013 ….. GENIUS.  He was real, funny, smart, and most definitely someone to listen to if you want to be successful in social media.
His keynote presented case studies of successful businesses that gained exposure through being awesome and effective. Then, he pointed out some of the train-wreck stories of unsuccessful businesses showcasing what NOT to do. Sweet mercy, help these people.
So, for all the Arkansas and Oklahoma Women Blogger gals who were not there and keep asking for things that we learned at Blissdom 2013, here are a few of the things that impacted me from Mr.@unmarketing himself,  Scott Stratten: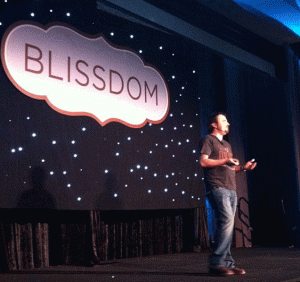 Don't blog or tweet because you "have to", only do it when you have something AWESOME to say. Tweets should be insightful and engaging, not constant marketing plugs. Seriously, Twitter is for conversations not dictations. The secret to being social is to talk with people, not at them. He says 75% of your time on Twitter should be responding to others.
Be sincere, be fast, and be authentic! It's all about positioning yourself as a trusted expert in front of your target market, so when they have the need, they choose you. But, sistahs, they need to trust you!
We all just want to be heard. Humanize your brand. Kindness and courtesy makes the world better place.
Oh, and be awesome. Example of Awesome? Ritz Carlton has a stuffed animal left by a young child. It was returned to the child with photos of where it had been – by the pool, at the spa, hanging out with other stuff toys. When the boy got the toy back, his dad was so impressed he shared it with tons of people. That was not done by the brand Ritz Carlton, but rather by people.
I am sick of justifying social media. Just go away.
My favorite Scott Stratton line of all… never tick off a tech savvy mom. If you know anything about social media, that is sooo true!
You can find Scott on his blog at UnMarketing, on twitter at @unmarketing and his first book is none other than UNMarketing. He gave us all one of his most recent books The Book of Business Awesome (Unawesome) free and then sat and signed them for a huge line of women. He signed mine You're the awesomest of awesome, wasn't that kind. Alright, he said he would write whatever I wanted. How awesome is that!
Interact. Engage. Be awesome.
The Park Wife