"If a tree falls in a forest and no one is around to hear it, does it make a sound?" is a philosophical thought experiment that raises questions regarding observation and knowledge of reality.
Observation, knowledge of reality, blah, blah, blah.
See, if you arrive to your land in the mountains after dark, in very cold weather, go through the gate, and a tree has fallen across the road who cares if it made a sound. It is in the way!
Thank goodness I am married to an outdoorsy park ranger kind of guy who knew what to do because I would have turned around and gone to a hotel.  We moved some brush making an alternate route to get past the tree.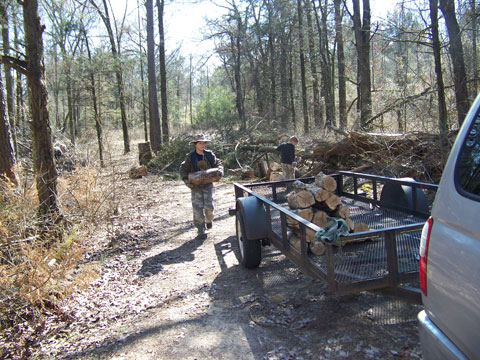 The next morning we got to work. The Buckaroo's now have the option of becoming lumberjack's, we are all about opening their hearts, minds, and muscles to potential occupations/life paths. Well, and they are cheap labor.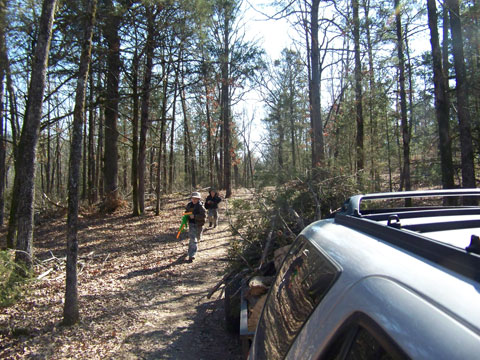 After all the cutting and loading, the Buckaroos felt the need to protect the frustrating, stress inducing trailer full of road blocking tree parts.  Of course, this was all an adventure for the men of my house, for me, not so much.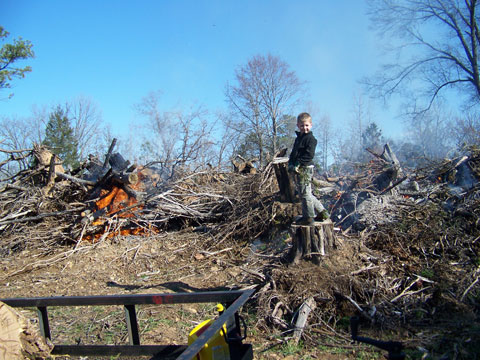 A fallen tree means that we have more brush to put on the huge burn pile in our new pasture. What is it with boys and fire? Alright, maybe they will be firemen.  Another vocational skill introduced, right? Look, I am trying really hard to look on the bright side here, just roll with it please.
It is in these times I try to remember: "Don't climb on that, don't break anything, don't be so aggressive, don't be so noisy, don't be so messy, don't make such crazy risks. But God's design–which he placed in boys as the picture of himself–is a resounding yes. Be fierce, be wild, be passionate." John Eldredge, Wild at Heart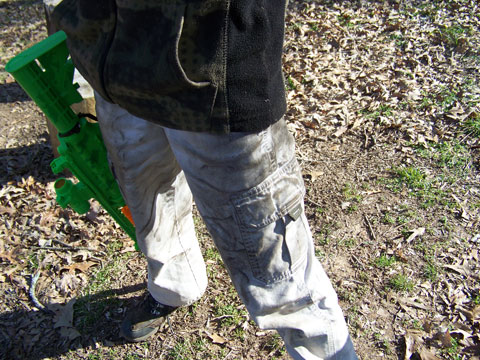 Of course, a weekend at the cabin in the woods means dirty, filthy little boys. The fate of these pants is bleak. We are still scrubbing his fingernails.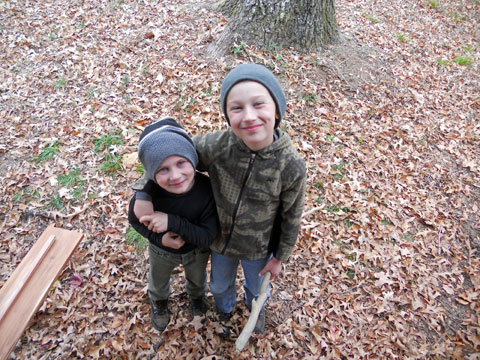 But, they LOVE it. Going to our land is just an adventure waiting to happen for them.
"Deep in man's heart are some fundamental questions that simply cannot be answered at the kitchen table. Who am I? What am I made of? What am I destined for? It is fear that keeps a man at home where things are neat and orderly and under his control. But the answers to his deepest questions are not to be found on television or in the refrigerator." John Eldredge, Wild at Heart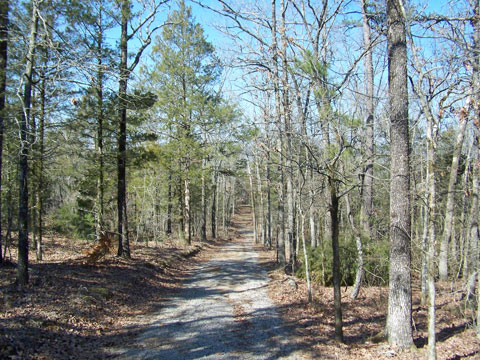 And this…makes my heart happy. The road less traveled, the road to peace and serenity, filled with chaos, chainsaws, fire,  and boys learning to become fierce warriors (while I close my eyes and learn to trust Him more). Our road.
Blessed to be a mom of boys and wife to a fierce warrior,
The Park Wife