Big  Buckaroo is from Louisiana, I am from Mississippi, we met in Tennessee and we live in Arkansas.
We have the South and its wonderful culture covered. But, as I have said before, our gypsy lifestyle has taken us far away from our hometowns so we have no family around.
We are fortunate that my mom (who still works full-time) comes to see us for a week at least three times a year and joins us on vacation. She calls the boys a few times a week to check on them.  She is an extraordinary grandma, but lives too far away.
So, we adopt people. Or, at times, they adopt us.
When I first started dating Big Buckaroo, he was a park ranger at a mountain park. On our marathon phone conversations (we dated long distance for a while), he would tell me that he had been over at his friend Aline's house working in the garden (with a push plow no less), painting her house, fishing in her pond, oh, the list goes on.
He first met Aline when he went to her house to buy fresh eggs. They hit it off.  He would help her around the house and she would feed him. It was a match made in heaven.
Then, I came along.  She did not like me much, I infringed on her territory. The first year I knew her she called me Daphne, knowing full well that my name is Stephanie. It was her way of putting me in my place.
I was not really ever jealous of Aline and Big Buckaroo's relationship, never worried that she would take him away from me.
See Aline was 80 when I met her. She had been married to the love of her life, Red, who had passed away. Red had worked for Governor Rockefeller for many years at his farm on the mountain and was widely known in the area as the best water witcher (someone who can  find underground water by means of a divining rod). Not a day went by that she did not mention Red to me, she missed him terribly.
After a year, she and I bonded and all was well. Especially after I had Little Buckaroo, she fell in love with that kiddo. I would take her to town (25 miles away) to go to the doctor or shopping, Aline never drove a car. She said that while Red was off in the war and she was working in the war factory (yes, she was a honest to goodness Rosie the Riveter) that someone tried to teach her drive. It did not take.
We moved to another park and  kept in touch with her the best we could. We attended her 90th birthday party in the small house she and Red built together on the mountain, her  piece of heaven on earth.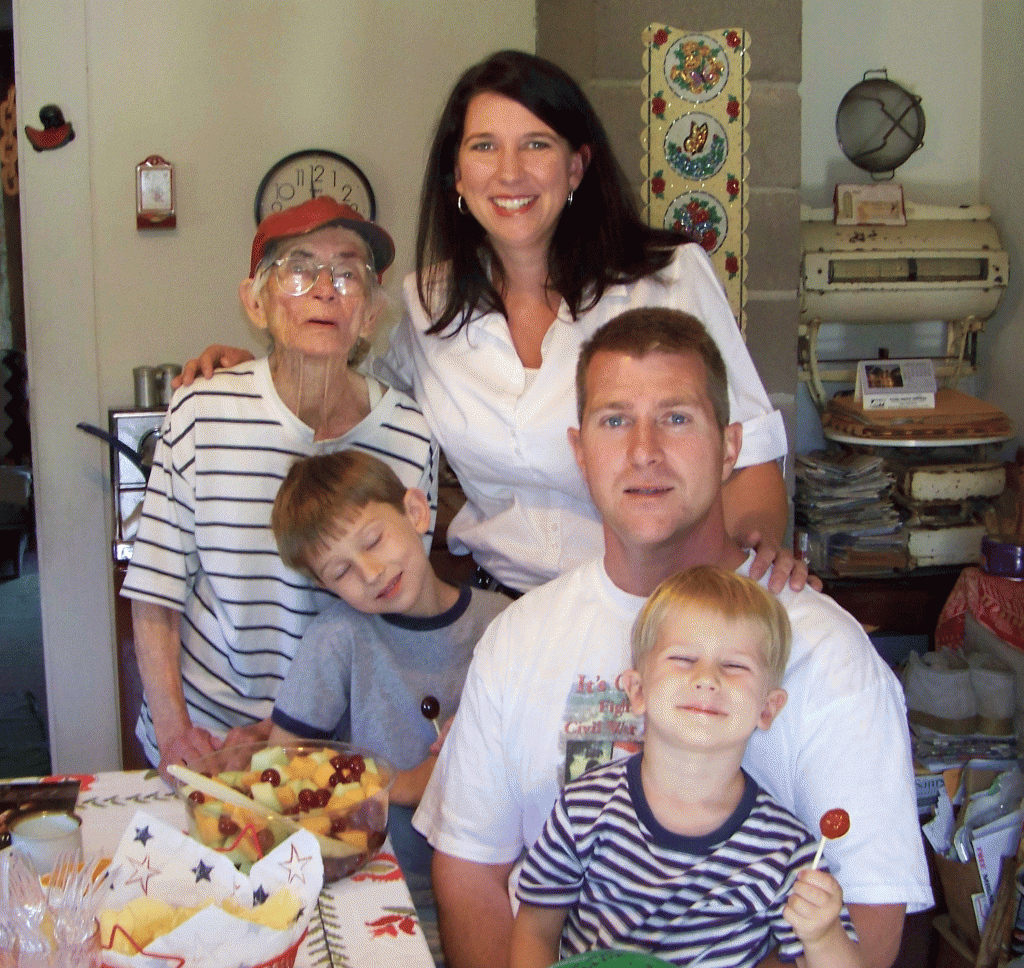 Of course, she gave The Buckaroo's suckers as soon as we walked in the door. That's what grandma's do.
Granny Aline lived in her little house on the mountain alone until she was 91. When her niece called to tell me that they were going to put her in a nursing home, I was so sad. I just knew that she would hate not being in her home.
I was wrong.
I was heading through town on a trip and stopped to see her a few months after she had moved into the nursing home. She was holding court. Although she missed the mountain, she was surrounding by people who wanted to hear her stories, look at her pictures, and laugh with her.  Her mind was sharp, she remembered everything.
On that trip, she told everyone in the cafeteria that I was the woman who had stolen her boyfriend.
Granny Aline, the simple mountain woman who showed me how to live simply, love mightily, and to always be who God created me to be, passed away last week at the age of 93. We were there, on the mountain she loved, to tell her goodbye.
I am thankful, honored, and blessed to have known her and happy that she is now on the mountain of God, reveling in Him, with Red.