We have 70 of the coolest of the cool, best of the best women bloggers/social media mavens from across our state (plus one from Missouri, Kansas, and Oklahoma) descending upon the Ozark Folk Center State Park tomorrow! I am beyond excited to see all my gals and meet new ones.
We are providing an uplifting gathering for women to support and encourage each other in building blogs that fit their lives, personal goals and values.  It is a smaller conference where women feel they can make themselves at home, enjoy a rich weekend of blog-worthy experiences and deep connections with others in addition to learning opportunities, that is the whole reason behind why I started this group three years ago. This makes my heart happy.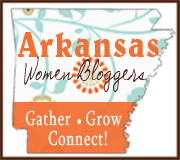 The event's keynote speaker is author and blogger Lela Davidson, who has built a multi-media platform with her lively, honest content and playful perspective on modern family life, marriage, our super social times,and the challenges of being over-40 in a Botox world. I am so excited to meet her, I think she might be my soul sistah!
New this year is our Foodie Friday pre-event where 30 of the state's notable women food writers and bloggers will be led by the extraordinary Lyndi Fultz (nwaFoodie) and my go-to-gal Julie Kohl (EggsandHerbs and Arkansas Women Bloggers Editorial Board member). The Foodie Friday program is presented by Ziploc® VersaGlass Containers, Ziploc® Short Life Containers (www.Ziploc.com) who sent me 114 boxes of goodies, yes the Fed Ex man is still rolling his eyes at me.  And also, Arkansas Farm Bureau  (www.ARFB.com) who does a wonderful job supporting and promoting Arkansas farmers, oh yes, you know I love me some farmers!
Face it ladies (and my few male readers, um..my brothers and friend Taz), women bloggers are a significant force to be reckoned with in 2012 and beyond. We are the most powerful consumers in the world, and those who have harnessed the tools of social media are an especially important demographic. Many brands and businesses are using these effective influencers to build personality, loyalty, and sales for their product. For example, the conference is presented by:
Healthy Families (www.HealthyFamiliesNow.net/ebooks), an initiative of the Arkansas Department of Human Services that produces the free Happy Birthday Baby books to provide resources for healthy pregnancies, babies and families. I so wish I would have had this when I was pregnant, but these books will be in all of my baby shower presents from now on.
The Porch Swing Sponsor is Country Outfitter (www.CountryOutfitter.com), a Fayetteville-based online retailer of boots and Western wear. They are giving all our attendees a pair of boots, yes, you read that right. And, they are giving us all a pair to give away on our blogs. I will start taking bribes as of today, haha.
Additional conference sponsors include a number of Arkansas-based companies and innovative organizations that understand the value of social media and blogger marketing:
All You Magazine,
Petit Jean Meats (Morrilton),
Yarnell's Ice Cream (Searcy), and
 Women's Foundation of Arkansas (Little Rock)
Oh, and you do not want to get me started on the SWAG! Let me just say some thank you's to nwaMotherlode.com, P. Allen Smith, The Pioneer Woman, Loco Ropes,  Glory Garden  Boxes, Microplane, Le Mystere, Mrs. Myers Clean Day, SYSCO, and MORE!!!!
Watch Facebook and Twitter this weekend for all the fun and no worries, there will be several re-caps in the weeks to come.
This is  kind of  a big deal,
The Park Wife