Hi, I am The Park Wife and I am not crafty, but I love Pinterest. I am getting some major "yep, me too" and an "amen sistah" right now. I spend hours planning the cool things I am going to do in an effort to  "preserve memories" of our boys childhoods.  In reality, I am preserving a lot of Pinterest boards that I will never get around to.
However, during the 4,789 things I am doing to prepare for the big blog conference (woohoo, 72 women heading my way next weekend), I decided to overcome my fear of spray adhesive, scissors that cut crazy shapes, and wood stain and get my inner craft girl on.
My friend Amanda over at My Heart's Desire saw a pin and made some cool maps for her wall.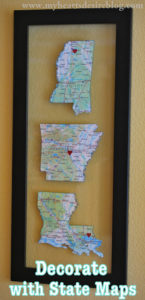 So, I stole  borrowed one of Big Buckaroo's old atlases and cut it up. I found this much better than printing them out, could be the quality of the maps online or my ancient printer.  After I completed the project, rather than putting them all in one frame, I did this: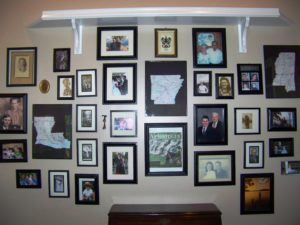 I love having tons of family pictures in our home and this seemed the best place. Now, don't be hating on how crooked the pictures are. As soon as I straighten them, a little boy comes running through with a bullwhip and they are askew again. My life.
Now, do not faint, I got even craftier. See, this is our third state park in 14 years. We will probably be at this one for a long time, but these are our Buckaroo's growing up years and we have been measuring them on the door jambs of the other houses at the other state parks (sorry for those who had to paint over this after us). So, I saw this on Pinterest and thought, great idea, I can take this wherever we go. Plus, the wonderful state park family before us in this house utilized one of the door jambs for their sweet daughter's measurements.  I thought I could make one and transfer her measurements to it for a house warming present for them in their new home. Then, I looked at it on the Pinterest board for six months. Finally, I got around to it.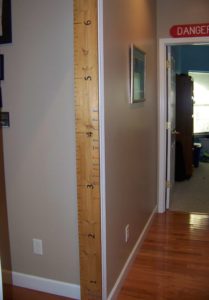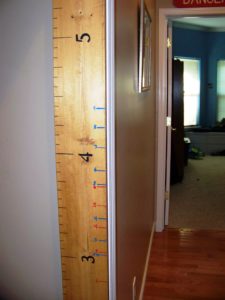 I love this, it makes me smile when I see it.
Oh, by the way, that huge blog conference I am working on…..yes, there will be some wonderful photography workshops that I will be attending. I will go ahead and say "you are welcome" now because in addition to my crafty deficiency, my photography skills are completely lacking.
Going to tend to my x-acto knife cut on my finger,
The Park Wife