Little Buckaroo was asked recently if he was going to sign up for Cub Scouts this fall (as the sister of two Eagle Scouts and daughter of a Scout Master, I think it is an excellent organization). He looked at them quizical, then with his polite little gentleman manners said, "I am not sure, I will speak with my parents about it. I bet you will have so much fun in Cub Scouts. Uh… What is it?"
I saw the wheels turning as he listened to the description of all the cool things they do: camping, hiking, building trails, swimming. I was preparing to go out and buy that cute little bandana, the uniform, and the other paraphanalia needed. When we got home, I asked Little Buckaroo what he thought about signing up for Cub Scouts and telling him about all the things my brothers did when they were working to become Eagle Scouts. He looked at me and said, "I already am a boy scout, dad takes me to do all that stuff already, I don't need a uniform." Well, there you have it.
So….yes, we love adventure around here. Wait, let me re-phrase that, my house full of boys loves adventure and I hold my breath and take pictures until it is over. I mean seriously, do you see my 9-year-old in this picture?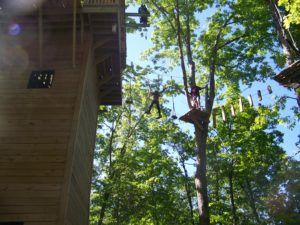 Sweet mercy, it makes me nervous just looking up that high.
Oh, wait, there he is with his dad climbing in trees like Tarzan.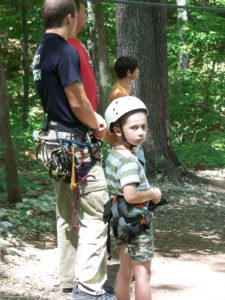 Oh NOOOOOOOO……not our 6-year-old too.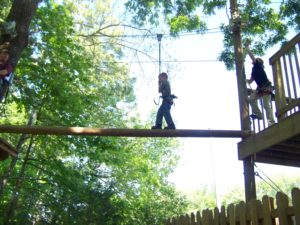 Oh, just a little log about 10 feet in the air. Is there really such a thing as healthy fear? Not for him, but for his mom on the ground watching?  He finds it exhilarating. Me, not so much.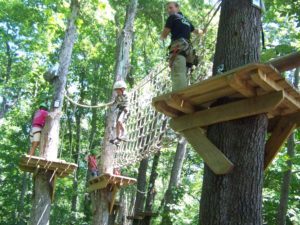 Good grief Charlie Brown, that boy is brave.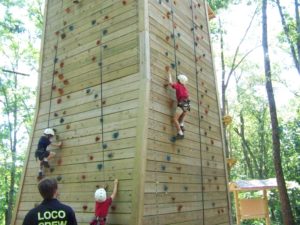 Oh, after monkeying around in tree tops, let's cool down with a climb on the rock wall.  A piece of cake. woo-hoo (insert sarcasm)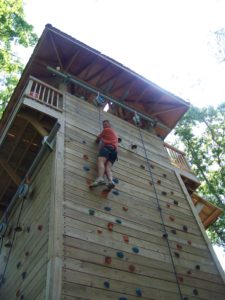 Oh look, the scoutmaster, instigator of adventure, Tarzan without the loin cloth, love of my life (that might end on a zip line).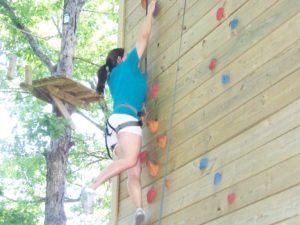 Yes, they wrangle me into this adventurous life every now and again.
Just a walk in the park.  Or, a playground in the trees.
The Park Wife
Loco Ropes! at the Ozark Folk Center State Park is the newest adventure in Mountain View, Arkansas, proclaimed by National Geographic Adventure Magazine to be one of the 50 Great Adventure Towns! Loco Ropes is a state-of-the-art treetop adventure park experience. That's right – a thrilling high wire adventure rope course with 3 different segments totaling 30+ challenges to test your nerve, endurance, agility, and strength. Check them out at http://locoropes.com/.