Almost three years ago, I sat in line for four hours to get a cookbook signed by the extraordinary Ree-The Pioneer Woman. Read her post about the Excitement at the Wal-marts here, yes, I still get giddy when I see that she listed me as "The Park Wife (she's an old internet friend!)".  I met many wonderful women in line that night and as I was driving the two hours home, I thought about the fact that I was not the only woman blogger in Arkansas. A month later I started a little blog to try and wrangle all these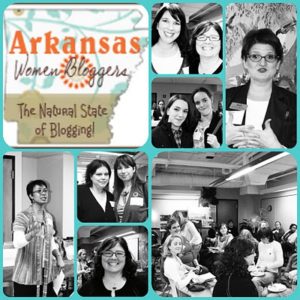 women into one place; a place to gather, grow, and connect in the bloggity world. Arkansas Women Bloggers was born. After a while it was evident that I needed some help, enter Fawn of Instead of the Dishes (who has since moved back  to Missouri), the extraordinary Julie of Eggs & Herbs and Beth of Little Magpie. Women who had never met in person, but connected through blogging proving that true, meaningful relationships can be made in this bloggity world.
For a while we put up posts of Arkansas women bloggers on the site, trying to help promote their blogs, and we even chit chatted about how much fun it would be to have some type of meetup or even *GASP* a blog conference. After looking at several college football schedules (because that is how all events in the Fall in the South are planned), we had our first meet-up in Little Rock in December of 2010. Then, last year we did it, yes, we hosted our first Arkansas Women Bloggers Unplugged Conference. Forty-five women bloggers from all parts of the state of Arkansas (and one from Missouri) loaded up their cars, trucks, SUV's and bicycles (yes, that is an exaggeration as you had to go down miles of gravel road to get to our destination) and desended upon the Ozark Natural Science Center in Huntsville, AR. We meeted and greeted on Friday night amidst the chirping critters, surrounded by 500 acres of Arkansas Natural Heritage Commission land. Yes, that means we were 35 miles from anything! Thankfully, I brought my own Dr. Pepper. Some of the women began hyperventilating as they drove in because there was limited (very limited) cell reception. Did you catch that this was an "unplugged" conference? Twitter withdrawal starting kicking in at about 9:00pm., but, laughter, connections, and some yummy food and drinks filled the gap. Hooting, hollering, bonding, crafting, learning, unwinding and the beginning of many, many friendships.  We unplugged our computers and plugged into nature and each other.  #AWBU became a legend of its own.
So, here we go again, bigger and better! Our second Arkansas Women Bloggers Conference is scheduled for August 24-26 at the Ozark Folk Center State Park, a natural choice for The Park Wife, right?  This isn't Blissdom, BlogHer, Blog Sugar or anything like it – and it isn't meant to be an "intense" blogger conference. #AWBU is better: it's your chance to unplug for the weekend (yet, we do have wi-fi at this destination), network with other Arkansas Women Bloggers and brands, pick up tips, gain inspiration and grow – as a human, and as a blogger. This year we have added a Foodie Friday event, sweet mercy, topics such as Food Photography, Food Presentation, Exceptional Food Blog Presentation, Foodie Tech Tips and more! Check out the agenda for Foodie Friday here.
We are going more in-depth this year on content, with workshops like:
1. 45 Ideas in 45 Minutes: A session full of tips & tools to take your blog to the next level.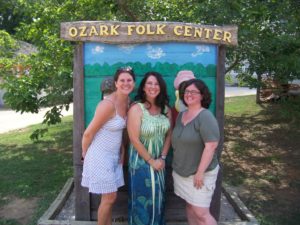 2. Blogger Technicalities: WordPress challenges, HTML and other tough topics with the true experts.
3. Blogger Legalities: Copyrights, disclaimers & giveaways – oh my! Learn to navigate in murky water.
4. Writer's Content Panel: technique, etiquette, freelancing, guest posting & leaping from blog to book.
5. Blog Photography: Based on last year's feedback – we'll have professionals ready to assist & teach you!
6. Define Your Blog: Lifestyle or mommy blogger – or neither? Clarifying niche, tone, approach & core values.
7. The Business of Blogging: Ad words, banners, sponsors & tools to move from hobby to producing income.
8. Brands & Blogs: What do companies seek? Lean to effectively align your blog to represent products.
Oh, and the speakers, my oh my, we have some wonderful Arkansas gals on board:
• Lela Davidson, author of Blacklisted from the PTA and blogger at AfterTheBubbly.com
• Lyndi Fultz, food blogger at nwaFoodie.com (host of Foodie Friday – see separate agenda)
• Kyran Pittman, author and blogger: Planting Dandelions: Field Notes from a Semi-Domesticated Life
• Natalie Ghidotti, owner of Ghidotti Communications & partner at Eric, Rob & Isaac agency.
• Angie Albright, writer and blogger: AGrowingSeason.com and AngieAlbright.com
• Sarah Scott, coder and developer, tech educator, founder of NWAGiveCamp and Tech Adventure Club
AND more will be announced each week!
So, here we go again.
Who: Women bloggers (and would-be bloggers) in Arkansas and beyond
When: Friday, August 24 (arrive between 5 & 7ish) – Sunday, August 26 (after brunch)
Where: The Ozark Folk Center State Park in Mountain View, Arkansas
Cost: Pre-registration is $135/person before July 31. After August 1, it is $150.
Go here for more conference details, then REGISTER!!!!!
I hope to see you there,
The Park Wife